*complimentary product received for review purposes*
Lynktec's TruGlide Pro Artist Paintbrush Tip is compatible with the iPad and all other tablets, phones, and other touchscreen devices. It's more than just a new toy. This tool can help even a novice produce gorgeous art.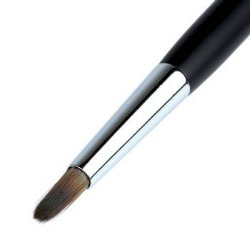 The technological advances over the past 30 years are mind-blowing. Why, when I was a kid, computers were as big as a refrigerator and slow. Yes, I'm a 70's kid, and the concept of a powerful computer in the palm of my hands still makes me shake my head. And touchscreens are amazing! What was something I saw in sci-fi is now in my geeky hands. I love them. What I don't love is how dirty they get throughout the day and how sensitive they can be. When my fingers hit two keys, I have to make almost as many edits as I do when I type. And swiping is not always the answer. And for art, my fingers cannot always give me the fine lines and precision I seek. Enter Lynktec. I use my Smartie Cloth for my glasses several times a day, pull out my TruGlide Stylus when my hands lock up, and now have a new toy. Lynktec's TruGlide Pro Artist Paintbrush Tip is perfect for art projects on any touchscreen device. Thanks, Lynktec for sending me one.
I'm not an artist, but digital art makes me feel like one. Editing software helps me produce professional-quality photos and apps let me showcase my photos with or without artistic enhancement. As a novice when it comes to art, I can use all the help I can get. My kids on the other hand, are levels above me when it comes to digital art. With the Artist Paintbrush, I can narrow that gap. I can paint as if I'm working on a canvas instead of on a screen. I pulled out my old paintbrushes to compare the feel and was surprised. I'm no master of the paintbrush, but it feels more natural than expected. The digital brush was a little heavier than the old school analog one, but not by much. As someone who plays with art applications for fun, I like this new Lynktec product. I can only imagine how useful this could be for a professional.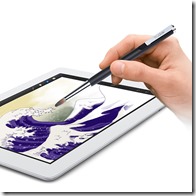 Before you brush off Lynktec's paintbrush as an unnecessary toy, stop and think about the projects that give you a little trouble. The lines you have trouble getting just right, shading that's a bit off, or a curve that doesn't flow as smoothly as you like. A stylus can help with precision, but a paintbrush allows the control like no other implement.
Chris' Thoughts:
I too, received a new Artist Paintbrush Tip for digital arts and I want to share a few thoughts on this product. I am sooo not artistic in the least. But I know know great quality and innovative products when I see them.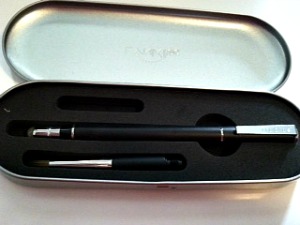 The Artist tip comes in a great metal case so that you can store it safely and have the stylus right there with it. To use this product, you simple remove the tip of the Lynktec TruGlide Pro Precision Stylus that we reviewed after it first came out in April. The pen like stylus gives you ample balance and easy usability to produce awesome digital arts.
For those that enjoy creating there are many different apps for iPads and such like Procreate and Paper by 53 and this tip will work very well with them. If you love to create digital arts, check out this awesome tip that will give you the control for fine details.
Lynktec's TruGlide Pro Artist Paintbrush Tip is more than just a new toy. This tool can help even a novice produce gorgeous art. It's compatible with the iPad and all other tablets, phones, and other touchscreen devices. Pick one up with a brush with a case for just $14.95. Don't have the TruGlide Stylus? Pick up a bundle with brush, stylus, and case for $39.95. The Digital Age is here to stay. Jump in and embrace it for work or play. You'll be amazed by what you can do.
* This post contains affiliate links. If you make a purchase, we may or may not receive a small commission which helps to support this site. Thank you!

Disclaimer: Sherrie Thompson has personally reviewed the product listed above. Sherrie has not received any monetary compensation for her review. Sherrie did receive a free product to try out so she could evaluate and use it for her review. Her thoughts & opinions in this review are unbiased & honest and your opinions may differ. Two Classy Chics is not responsible for delivery of any giveaway items won from this blog. We are not responsible for injury or mis-use of any products won from the Two Classy Chics Blog. Please read our Terms of Service & Disclaimer Policy before entering our giveaways. This giveaway is not affiliated with Facebook or Google+ in any way. Thanks!