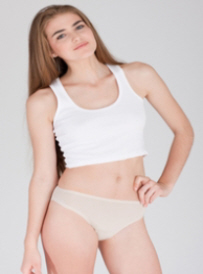 ** Complimentary Sample Received for Review **
It's something every woman dreads, "that time of the month". Now there's a new solution in underwear that helps makes this dreadful week more comfortable. For myself personally, I have a very heavy menstrual flow thanks to endometrosis and my periods are a nightmare every month. From painful cramps, headaches, mood swings and of course those dreaded "leaks" the monthly thing is something I don't enjoy.
Today I want to talk to you about the BFF Period Undies that provide backup protection during a woman's menstrual cycle. The stylish yet comfortable undies are made of high quality cotton/spandex with a polyester waterproof, breathable lining- no more embarrassing leaks on clothes! BFF Period Undies come in classic tones of nude, pink, blue, black and white with delicate lace trimming.
The fabrication (cotton/spandex) in these undies is amazingly soft and they fit super comfortable on my body. I love the comfortable waist band, non-gapping leg openings and they are machine wash/dry. The real beauty of these undies is the breathable anti-leak coating center (at the crotch) and at the rear of the panties. Even with this coating they are SOFT!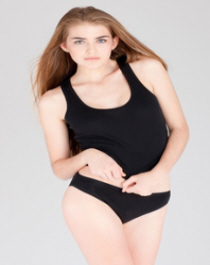 To get personal here…I wear tampons through 90% of my period. If you are a woman, you know that tampons often leak, especially on those first 3 days of your period when your flow tends to be heavier. In the past I would sometimes use a panty liner just incase a leak happened because I got tired of ruining my clothing. Yes, I am being honest and frank with you all of you.
I got these BFF Period Undies two days before my last period arrived and when my "friend" arrived I immediately tried them out on day one with no panty liner and just my normal tampon. As usual, I did have a small leak that day and was worried that it would get on my clothing and/or stain my new BFF Period Undies.  Later that evening I tossed them into the washer with my regular laundry and guess what? They came out looking beautifully with no stains! Wow!
I am really enjoying these BFF Period Undies and they are making my life a lot easier! I no longer have to worry about "leaks" and the real bonus to that is that these are  great fitting pair of women's underwear. I highly recommend them and I plan on getting additional pairs so that I am always ready for that time of the month!
You can learn more about the BFF Period Undies by visiting and shopping at Simple Necessit-Ease online. Head on over there today and check them out while you are here! Great product!

Disclaimer: Jenelle Hill has personally reviewed the product listed above. Jenelle has not received any monetary compensation for her review. Jenelle did receive a free product to try out so she could evaluate and use it for her review. Her thoughts & opinions in this review are unbiased & honest and your opinions may differ. Two Classy Chics is not responsible for delivery of any giveaway items won from this blog.