I will be the first one to admit that I used to use a 'fanny-pack'. Why? I went for practical use of pockets, not style, and to be able to keep items within reach. I reviewed a really cute and stylish pocketed accessory from BANDI. BANDI sent me a very beautiful belt—Style "Water Garden". There was no bulkiness, no zippers, just a secure folded pocket for whatever I need to protect.
I use it most for when I have some pants that have incredibly small pockets or no pockets at all, since I am not really a purse-using kind of woman. The BANDI belt is so comfortable to use since it is thin, lightweight, and easily adjustable to my size. Best of all, I know that my items are secure because the belt is on my body and it has a no-bounce fit. This BANDI belt has been great for me also since I sometimes misplace my important items like my keys, phone, or wallet… It is also perfect for when I am out for a jog or a walk. I can stash my keys and phone and not worry about losing them.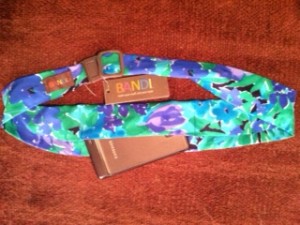 Belts are not the only thing BANDI has to offer. All BANDI offerings feature a unique pocket fold to ensure necessities are close at hand, but never a burden. There is a larger pocketed belt called the Passport Belt. There are also many headbands of all types of colors or prints. The cool thing about the headbands that I liked was that they were foldable from a wide fit, narrow, to even a wrap for a ponytail while still having a pocket! How versatile!
Versatility was a necessity for Bev and Beth, busy moms who were living very active lifestyles. They created BANDI with the help of their professional backgrounds in the creative & apparel industries. They discovered was there were not any sleek alternatives to the traditional purse, wallet or bulky fanny pack to carry essentials. They were able to find the perfect harmony between a functional belt and fashionable style. BANDI was launched in May 2012, and is proud that all of their products are manufactured right here in the USA, which is something about this product that I was very excited about!
I love the soft, spandex knit fabric on my BANDI belt. Sometimes, I can hardly notice it is there! There are so many nice solid colors and striking prints on these belts, I might have to get several more to match my other outfits. These sleek and modern pocketed accessories are for those who want to simplify their life with style!
The Giveaway
One lucky winner is going to receive a Bandi belt too – random design. Here is how to enter…
CONTEST CLOSED
Giveaway Details: This giveaway is open to US Residents age 18 or over. You must complete the Mandatory Entry to be eligible. This giveaway will close on Sept 3rd, 2013 at 11:59pm EST Time.

Disclaimer: Ruby Santiago has received no compensation for this post but was given free product for purpose of review. Her opinions and words are her own. Your thoughts & opinions may differ. Please read our Official Rules before entering this giveaway. We must receive all entries by the end date of the contest and the odds of winning are determined by the number of entries received. No purchase necessary to enter. All Content on this site is Copyright of the Two Classy Chics All Rights Reserved