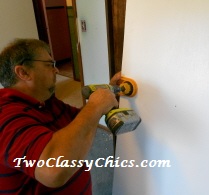 Whether you are a mother or a grandmother, it is very important to childproof your home properly. I am just not talking about purchasing a safety gate and sticking plastic plugs into your wall outlets, I am talking about really taking the time to childproof your home the correct way.
The first thing you need to do is to walk each and every room of your home while taking a look at everything an young child might happen to get into or everything that might possibly hurt them down the road. This includes hard furniture, electrical appliances, fireplaces, stairs, doors, windows, chemical storage, bath tubs, swimming pools, etc. As you go from room to room, you need to make a list of hazards in your home and around your home. Once you have your list, it is time to get busy on making things safer.
Here are a few ideas to get you started.
Stairs – Every home that has stairs should have a safety gate that blocks access to small children. Safety gates are also great to block off access to garages, basements and other rooms that you don't want small children to wander into.
Fireplaces – Every fireplace is a potential danger to a small child. If you have one in your home you should invest in corner cushions and hearth bumper guards to help buffer any falls that may occur.
Cabinets, Doors, Drawers and Appliances – All of these items are potentially dangerous for small children. Invest in locks and latches and install them onto your items.
Doors and Windows – Children grow up quickly and within a few months of crawling and walking can access your doors and windows. I recommend getting door knob covers along with some high pitch door and window alarms. If your child should get a window or door open, the alarm will alert you to the danger.
Electrical Outlets – Insert plastic plugs into all electrical outlets that are within small children's reach. If you use extension cords or power cords, now is the time to replace them. You can purchase and install multi-electrical outlets that have safety covers already on them which is a safer alternative to using extension cords.
Finally, every home should have an infant and child first aid kit, fire extinguishers, window ladders (in case of a fire), smoke detectors and carbon monoxide detectors installed and available. The best way to protect your child's safety is to be prepared ahead of time for life's emergencies. Take the time to childproof your home today!