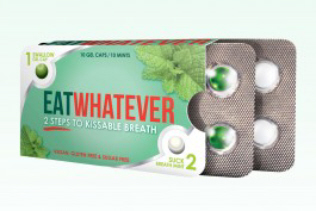 * Complimentary products received for review*
EatWhatever Breath Mints lets you eat whatever onion and garlic-filled goodness you want without fear of killer bad breath.
We've all had to deal with bad breath after lunch on a work or school day.  We need to eat and sometimes it's impossible to resist the call of a loaded slice of pizza, pasta with garlic bread, or nachos with extra jalapenos.   And it's awkward to brush one's teeth in public – I've tried.   The stares from strangers and ribbing from co-workers still make me laugh on occasion.  But it is not very kind to share the remnants of that fab lunch with all who cross your path.
Mints and gum work some, but tend to fade quickly and not work as well as we hope they will.  My addiction to Altoids is a direct result of my need for a mint that worked well.   The second I thought lunch might come back to haunt me, I'd pop another.  Even now when I dine out I feel I need to pop a mint or breath strip.
The ideal post-meal mint should last longer than a few minutes, taste good, and not leave me with a heavy mint-and-whatever-I-had-to-eat breath.  I'd like a sugar-free option that's vegetarian-friendly and gluten-free.   A more natural choice with a nice price also appeals.  EatWhatever Mints fit the bill.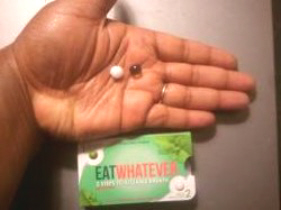 The idea for EatWhatever was born after a night of celebrating when the need for a killer breath mint arose.   Jacquii LLC combined organic peppermint and parsley seed oils to create a natural and effective mint that retails for less than $5 a pack.  Since life is too short to eat bland food just because it's a workday, I accepted her offer to give these mints a try.
Use of EatWhatever Breath Mints is a two- step process.   Don't let "process" turn you off; it's easy and painless.  First, swallow the green gel cap with a drink, then suck on the white mint.  Why two steps?  The green gel cap works inside to relax the tummy and break up the badness yet to arrive while the mint takes care of the current bad breath.  Hubby, Teen Boy, and I gave EatWhatever a try after an onion, jalapeno, and garlic-filled meal.  We took the gel cap and mint as directed, then did breath tests immediately and again after the mint was gone.  It works!  While some scent remained, it was faint during both tests.  We all agree that we'll try them again.  If you are pregnant, skip this one.  Peppermint oil is not recommended for use during pregnancy.
If you want to try EatWhatever for yourself, you can pick them up directly from the company.  A 3 pack bundle is for $7.50, 72 single pack bundle $22.50, a display box is priced at $22.50, and a case is $135.  T-shirts, tote bags, and bathing suits are available as well.  If shopping online isn't your thing, check the retailer directory to find EatWhatever near you.
Giveaway: One lucky winner is going to win an EatWhatever Prize Pack that includes a box of EatWhatever breath mints (9 packs in a box) and a brand logo tote bag. Prize pack value $25.00+.
CONTEST CLOSED
Giveaway Details: This giveaway is open to US Residents age 18 or over. You must complete the Mandatory Entry to be eligible. This giveaway will close on September 18th, 2013 at 11:59pm EST Time.

Disclaimer: Sherrie T has personally reviewed the product listed above. Sherrie has not received any monetary compensation for her review. Sherrie did receive a free product to try out so she could evaluate and use it for her review. Her thoughts & opinions in this review are unbiased & honest and your opinions may differ. Two Classy Chics is not responsible for delivery of any giveaway items won from this blog. We are not responsible for injury or mis-use of any products won from the Two Classy Chics Blog. Please read our Terms of Service & Disclaimer Policy before entering our giveaways. This giveaway is not affiliated with Facebook or Google+ in any way. Thanks!