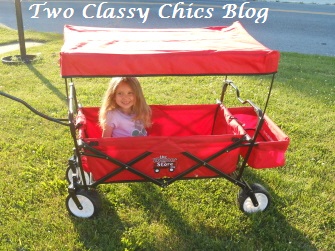 For the past 14 months my husband and I have been searching for the perfect wagon to use when we go to the beach, camping, hiking and one that would also work for various chores around our house. In addition to looking for a multi-purpose sport wagon, we also wanted the wagon to be foldable, portable and light-weight.
Well today, I am going to tell you all about the BEST wagon that I have ever owned and that wagon is called the Folding Sport Wagon from TheWagonStore.com. This wagon currently comes in 4 different color choices and the one we received for our review is in the classic red. Before I get started with my review, please be patient and let the photos load. I wanted to include several so that you can see the multiple uses for this wagon!
This folding sport wagon features all terrain wheels which means you can take it any where! We had no problems pulling it around on the grass, dirt, up hills, down the sidewalk and we are looking forward to taking it to the beach on vacation.
DIMENSIONS: OPEN Outside Length: 45.5″ Outside Width: 22.5″ Height (without canopy): 26″ Height (with canopy): 38″ Wheels: 7.5″ x 3″ Weight: 22 lbs (Wagon Only) Weight Accessories: 3+ lbs (Includes Carry Bag, Canopy,) Handle: 30″ long. 50″ from floor to top of handle when upright. Inside Length: 35″ Inside Width: 17.5″ Inside Depth: 10″ Ground Clearance.
When your new folding wagon arrives, it arrives in it's folded position and comes fully assembled. There is nothing for you to assemble at all. We removed a few of the packaging straps and within 3 minutes, we had our wagon fully opened up and ready to go.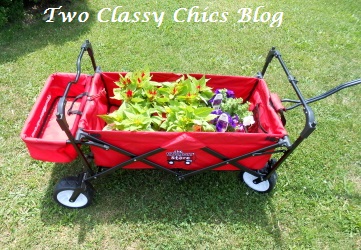 There is a built-in basket which we call the wagon's trunk where you can put beverages, beach towels, kid's toys or whatever else you need to tote around. Along with your wagon comes the removable canopy and let me tell you…it only takes 30 seconds to put the canopy on and to take it off. In addition, it comes with it's own carrying bag which also doubles as a storage bag when the wagon isn't in use.
We decided to try out our new folding wagon while doing some gardening work last weekend and wow…we were immediately impressed! This wagon pulls so nicely through the grass & dirt and it can really tote around a lot of stuff! Hubby got it a little dirty and guess what? He just sprayed it down with the hose and we were ready for the next day.
The following day our grand daughter came over to play and we decided to take her on a walk around our property and through the neighborhood. She refers to this wagon as her new "red" car! She was able to easily get in and out of the wagon and she felt totally secure the entire time while riding in it. It's very well-balanced and we had no problems with tipping as we went up and down the sidewalk and over a few curbs.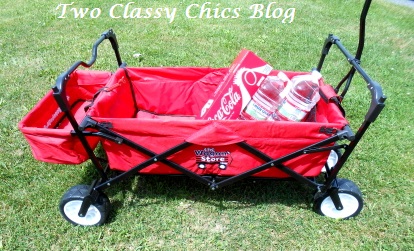 Just a few days ago my husband went out and did the grocery shopping. He hates lugging all of the bags, soda bottles, gallons of water & milk…etc. into the house from our large driveway and moans & groans about it. Well, I told him to get that wagon out, to fill it up and to wheel the groceries into the house. He was on that in a "hot minute" and from now on, it will be his preferred method of hauling in the groceries! hahaha!
There are accessories that you can buy to go along with your wagons…like insulated soft-sided cooler bags and comfortable pads. We are definitely ordering one of those pads so that Princess Gia will be even more comfortable in her new red sports car when we take her out and about.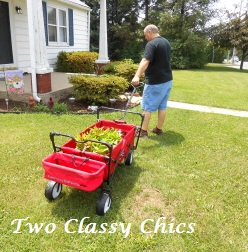 Overall…we give this folding sport wagon 10 stars out of 10 stars on our rating scale. There is NOTHING and I mean NOTHING that I would say needs improvement. In addition, we think its affordably priced and you can use it for all kinds of things to make your life easier. Top notch product in our book!
* This post contains affiliate links. If you make a purchase, we may or may not receive a small commission which helps to support this site. Thank you!
CONTEST CLOSED
Giveaway Details: This giveaway is open to residents of the US ONLY age 18 and over. Please read our Terms of Service & Disclaimer Policy before entering. This giveaway will close on July 23rd, 2013 at 11:59 pm EST time. No purchase necessary to enter or win.

Disclaimer: Shelly has personally reviewed the product listed above. Shelly has not received any monetary compensation for her review. Shelly did receive a free product to try out so she could evaluate and use it for her review. Her thoughts & opinions in this review are unbiased & honest and your opinions may differ. Two Classy Chics is not responsible for delivery of any giveaway items won from this blog. We are not responsible for injury or mis-use of any products won from the Two Classy Chics Blog. Please read our Terms of Service & Disclaimer Policy before entering our giveaways. This giveaway is not affiliated with Facebook or Google+ in any way. Thanks!