** Complimentary Products Received for Review **
The Sauce Goddess is a company that sells delicious tasting barbecue sauces, dry rubs, spices and snacks. You can order their products directly online and find them in some retail locations. Along with the products that they sell, you will find some yummy looking recipes on their site too!
The company sent us two of their products to try out for all of you and let me tell you right up front…we were not disappointed!
Sweet & Spicy Grill Glaze by the Sauce Goddess comes in a 13.5 oz. jar and is the first product that we tried. The product is gluten free and can be used on chicken wings, as a catsup, used when you make sloppy joes, as a dip or use it to baste some ribs.
We decided to use this barbecue grill glaze as a marinade for chicken. I dump the entire jar into my marinating container, tossed in the fresh chicken and left it sit in the glaze (refrigerated) for 6 hours. Once done marinating…we tossed all of the chicken onto our gas grill.
We served this chicken to some guests who were visiting us during my Birthday party and let me tell you…that chicken was GONE within 30 minutes! We had grilled 12 chicken legs, thighs and breasts…and they ate it right up! Many had said they wanted more and too bad I didn't have another jar of that grill glaze on hand because we would of grilled up some more! The glaze added a sweet, slightly spicy barbecue flavor to our chicken but it wasn't packing a slew of heat…more on the sweet side. Delicious!
The second product we received for the review was called the BBQ Sweet Heat Spice Rub which can be used on shrimp, ribs, steak, chicken or toss it into your favorite dip recipe for a spicy kick. It contains no MSG, is nut-free and gluten-free.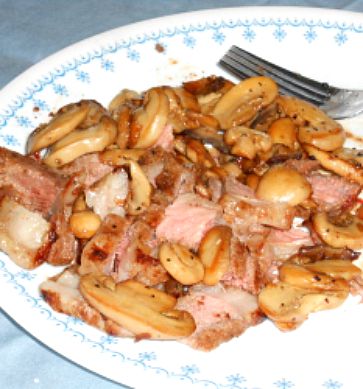 We decided to use this rub on some beef steaks that we were grilling up and I love that the rub doesn't have any smoky taste or hickory taste to it at all. You simply apply the rub to whatever you are cooking and apply as little or as much of it as you would like. I would say that we treaded lightly with this one since we were not sure how much "heat" it was packing. Seriously, we could of added a lot more to our steaks than what we did.  I really like that this dry rub is packaged in a round metal tin…so you can store it in your pantry until you need it.
Overall…we are really impressed with both products we received for the review and if we had to pick one favorite…HANDS DOWN it would be that delicious Sweet & Spicy Grill Glaze! Yummy!
* This post contains affiliate links. If you make a purchase, we may or may not receive a small commission which helps to support this site. Thank you!

Disclaimer: Shelly Hill has personally reviewed the product listed above. Shelly has not received any monetary compensation for her review. Shelly did receive a free product to try out so she could evaluate and use it for her review. Her thoughts & opinions in this review are unbiased & honest and your opinions may differ. Thanks!