I have a love/hate relationship with my phone. I love the capabilities that is has, but I hate touch screens! I spend more time dealing with misspelled words and flipping from one screen to the next to try and get a message done than it is worth. My fingers are too big to deal with those tiny letters. I really miss my LG texting phone I had. Who decided that touch screen were the way to go anyway? ugh! Well, the good news is that someone heard me out there because Lynktec answered my prayers with a smaller version of their stylus and I got to review one!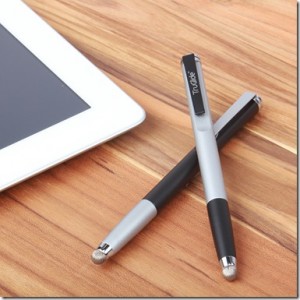 The new Lynktec TruGlide Pro Precision Stylus, which was released on May 1st, is a weighted, ergonomic stylus configured like a pen. At a small 5mm, the microfiber tip makes it super easy to use on phones, where I have been using it the most. This stylus tip is super soft and glides across the screen easily, making it very accurate to use. The pen is so comfortable in my hands, it is almost like you have nothing there at all. It is nicely weighted and balanced for long term use too.
I have also been using this stylus with my ereader/tablet. It is just the right size for me to hold and turn the pages while reading without even thinking about it. The TruGlide is a great tool for anyone that uses tablets, Ipads, Iphones, etc. Our reviewer, Sherrie, was also sent a stylus to check out too. Here is what she said about it:
Sherrie's Thoughts:
I have arthritis all over and it's spread to my hands. Some days it's all I can do to finish work on time. It's unpleasant most days and near unbearable during pain flare-ups.
I don't have a touch screen besides the one on my phone, so using a stylus didn't occur to me. When I received this one, I figured I'd give it a shot. The stylus is portable, attractive, comfortable and makes it easier for me to scroll through whatever I'm working on. I can type faster and longer when working from the road. I used it the other evening while sitting through a baseball game's rain delay. It took a while for me to use one, but now I cannot imagine not using one.
If you use the heck out of touchscreen and want to try a fabulous stylus like the TruGlide Pro Precision Stylus, you can check the out on their site and even enter to win one here.
* This post contains affiliate links. If you make a purchase, we may or may not receive a small commission which helps to support this site. Thank you!
Disclaimer: Chris has received no compensation for this post but was given free product for posting this giveaway. Her opinions and words are her own. Your thoughts & opinions may differ. Please read our Official Rules before entering this giveaway. We must receive all entries by the end date of the contest and the odds of winning are determined by the number of entries received. No purchase necessary to enter.