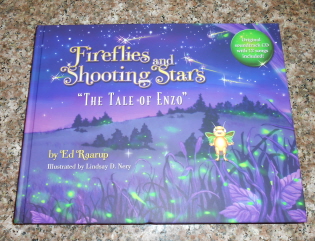 Reading is a big part of the activities that I enjoy doing with Princess Gia and I have been reading children's books to her since she was a year old. When we sit down to read a book, she hops up onto my lap…we snuggle up and sink our teeth into a good illustrated book, that has an educational meaning.
Recently we received a complimentary copy of the hardcover children's book titled "Fireflies and Shooting Stars ~ The Tale of Enzo" to review for all of you. The book is published by Moon Watch Productions, suggested cover price of $29.95. Along with each book comes an original soundtrack CD with 12 songs…which Gia just loved!
Author: Ed Raarup
Illustrations: Lindsay D. Nery
ISBN: 978-0-9859739-4-0
Book Synopsis: All kids want to be included and be able to do things like other kids. But what if you're a firefly and your taillight doesn't light up, and others keep asking questions?  This wonderful book addresses this subject of being different and having the determination to fit in. Enzo the firefly sets out on a special journey to find his taillight and winds up discovering lots of things about himself and the world along the way. He meets friends and learns lessons that will make up for not being like everyone else. Endearing, lighthearted, engaging, both children and adults will relate to Enzo's struggles and his triumphs.
Through Enzo's travels, he meets other fireflies who question his missing light and want to know why he is different. Enzo navigates several scenarios that children and parents might also encounter in real life. The confidence and coping strategies he develops along the way will be helpful to employ in real life situations. In a game of hide and seek, Enzo's parents are frightened because he has gone missing, and readers will share both his parent's concerns and relief when they find their little firefly.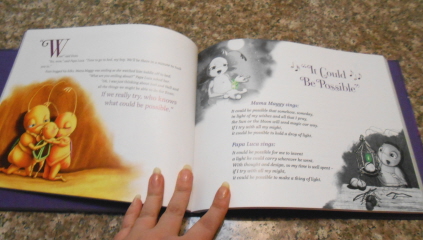 Our Thoughts: Wow, where do I start with this one!!! This is a beautiful hardcover children's book contains 144 pages with some of the best illustrations I have ever seen in a child's book! Seriously, this book is a work of art! In the back of the book is a little clear plastic sleeve that houses the music CD…great for keeping the entire set together while it sits on Princess Gia's book shelf.
Gia is 4 years old and can read some basic words herself, with that said, you will definitely need to read this book to a young child until they learn how to read a bigger vocabulary of words.
For the past week or so, I have been reading this book to Gia and she absolutely loves it. We have read it cover to cover one time…and now we are 1/2 way through reading it a second time. It's not the type of book most parents would read to a child in one sitting (remember, it's a chapter book with 144 pages…so it most likely will take you a couple of days to read it to your child).
This book is an easy read for a parent and all of the language and subject matter is easy enough for a small child to understand. I love that reading this book opened up a dialogue with Gia about kids being different from one another. This book lays it out nicely in a way that is easy for her to understand.
Two days ago she took the book and music CD into her preschool for Show & Tell day and her preschool teacher sent home a nice note to me thanking me for sending it in. The kids at her preschool are loving it too and Gia will be taking it back in for Show & Tell next week.
We love this book and highly recommend it to all of you. It's a wonderful book to add to your child's library or to purchase and give as a gift!

Disclaimer: Shelly has personally reviewed the product listed above. Shelly has not received any monetary compensation for her review. Shelly did receive a free product to try out so she could evaluate and use it for her review. Her thoughts & opinions in this review are unbiased & honest and your opinions may differ. Two Classy Chics is not responsible for delivery of any giveaway items won from this blog. We are not responsible for injury or mis-use of any products won from the Two Classy Chics Blog. Please read our Terms of Service & Disclaimer Policy before entering our giveaways. Thanks!