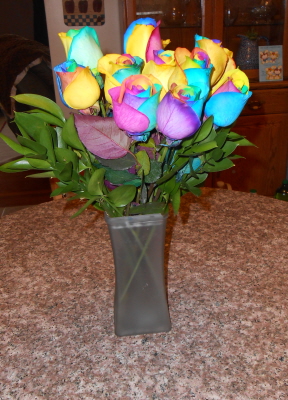 ** Complimentary Sample Received for Review **
Mother's Day is just around the corner and for once…I know exactly what to buy this year to give to my 67 year old mom and my 85 year old mother-in-law. In the past, these two ladies were very hard to buy for because at their age, they already have everything they need. For years I have always struggled with buying them gifts, but now…that problem is solved!
Let me introduce you all to FiestaRoses.com who sells very unique roses, including the hot and popular fresh Rainbow roses that everyone has been swooning about. In addition to rainbow roses, the company also sells solid-color roses, bi-color roses, multi-color roses and gift baskets! They are truly your one-stop florist shop for unique floral gifts!
Just recently my husband and I celebrated our 27th wedding anniversary and FiestaRoses.com sent us complimentary Rainbow Roses to help us celebrate our big milestone anniversary.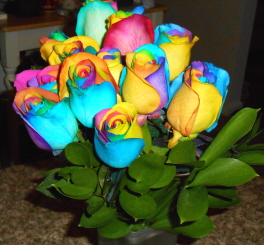 The roses arrived to our home in a beautiful gift box and within two days of our order being processed. Inside the gift box was a beautiful vase, plant food, instructions, a card and our beautiful dozen of rainbow roses.
As soon as you open your gift box/shipping box, you will be immediately impressed! As soon as it was open I could smell the beautiful fragrance coming from those stunning roses! Oh my gosh…these roses are simply breath-taking to say the least! I hurried up and put water into my vase along with the plant food. As instructed, I cut the tips of the rose stems and then placed all of the roses down into the vase.
I kept this beautiful vase of rainbow roses on my dining room table for a full 11 days! That's right, they stayed beautiful for 10 days and I was able to squeak out an 11th day before I had to sadly discard them. Boo!
Everyone who saw them complimented me on my roses and they couldn't get over the rainbow of colors! My little 4 year old grand daughter called them Tie-Dye roses and of course…she got to take one home with her that day. Yes, this Nanny shares!
Aren't those roses just gorgeous? Oh my gosh!!! I have already told my husband that from now on…Valentine's Day, Anniversary and on my Birthday he better get me some rainbow roses! These photos simply do not do any justice for these beauties!
Head on over to FiestaRoses.com and check out all of their beautiful floral selections! With Mother's Day, Birthdays, Wedding Anniversaries and of course it's wedding season…these roses make the ultimate perfect gift to give! Thank you Fiesta Roses!

Disclaimer: Shelly Hill has personally reviewed the product listed above. Shelly has not received any monetary compensation for her review. Shelly did receive a free product to try out so she could evaluate and use it for her review. Her thoughts & opinions in this review are unbiased & honest and your opinions may differ. Two Classy Chics is not responsible for delivery of any giveaway items won from this blog. We are not responsible for injury or mis-use of any products won from the Two Classy Chics Blog. Please read our Terms of Service & Disclaimer Policy before entering our giveaways. This giveaway is not affiliated with Facebook or Google+ in any way. Thanks!