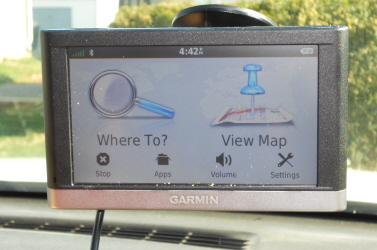 My husband and I do a lot of traveling, both for business and for pleasure. When we hit the road for a trip, we always have a Garmin GPS Navigator hooked up and running…ALWAYS a Garmin! Yes, we have owned other GPS brands in the past, but we didn't care for any of them until we got our first Garmin over 3 years ago.
Today, I am reviewing the newly released Garmin NUVI 2597 LMT GPS Navigator and I am excited to tell you about it.
NUVI 2597 LMT GPS Navigator Features:
* Free Lifetime Maps & Traffic
* Active Lane Guidance indicates the lane for your next turn
* Garmin Real Directions – Easier & friendly guidance
* Detailed map shows services ahead & traffic info
* MicroSD compatible for future map updates
* Maps Included: United States (all 50 states) and Canada
* 5″ Display screen
* Voice activated navigation, bluetooth and Smartphone Link compatible
* Dual-orientation capabilities, for use horizontally or vertically
* Comprehensive Driving Guidance You See and Hear
More Information About it: nüvi 2597LMT keeps your driving map onscreen at all times and additional information appears alongside. For details, simply ask or touch the screen. As you drive your route, Up Ahead constantly informs you of nearby services, including restaurants, fuel stations, hospitals and stores.
nüvi 2597LMT displays speed limit, current speed and accurate time of arrival. With a quick glance, you can read the name of your current street. nüvi 2597LMT also shows school zone warnings.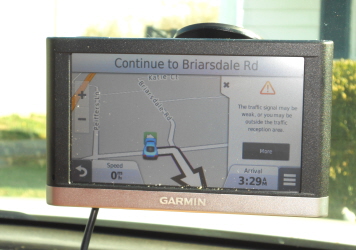 My Thoughts
: Our current Garmin was a year old and it was time to upgrade to a new one before we hit the road for all of our summer road trips & vacations. We received a complimentary Garmin NUVI 2596 LMT GPS Navigator to check out and review for all of you. Once it arrived, hubby took it out of the box and read over the included user's manual to learn more about the product.
Once he was done, it took him 1 to 2 minutes to get it hooked up in the car and he was done! That's right folks, you don't need to be a rocket scientist to learn how install or use a GPS navigator. We hopped into the car and took a day trip up to see my mother which is about a 1 1/2 hour car ride.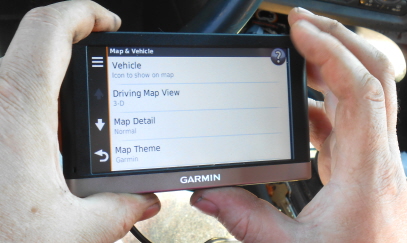 Before we pulled out of the driveway, he programmed in our address (our starting point address) and the street address of my mother's house. We really love this 5″ display screen because we are able to use it without using our reading glasses! Yay! Within a minute or two….it had plotted the quickest route for us and we were off and running!
What is really cool about this GPS navigator is that it tells you exactly what lane you need to be in for any upcoming turns. The voice is clear & concise and you totally understand where they are telling you to be or to go. In addition, we can clearly see where our next upcoming turn is going to be by just looking at the display screen.
When you are hungry or need to make a stop to use a restroom, you can program that information into the GPS and it will tell you where you can get something to eat, find a bathroom, get fuel, find lodging, attractions and all kinds of things that you need to know why traveling.  One of the things we found most beneficial was the live traffic reports because they were doing roadwork on the interstate and the traffic was at a crawl. The GPS navigator alerted us to the heavy traffic and plotted another route for us which took us around it. How cool is that? Totally cool!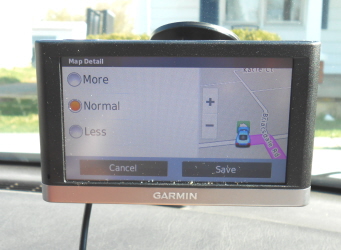 The display is very crisp and easy to read. I love that it's not just black, white & gray. There are colors too which really enhance what you are viewing on the display screen. You can travel just by the voice of the GPS, the visual of the GPS or both, that is totally up to you! If the family is sleeping and you are driving at night, traveling visually is the way to go.
We appreciate that you get FREE lifetime maps and live traffic reports via this particular model as paying for that via other brands can certainly get expensive. I love free…don't you? We will be traveling up to Canada this Fall and having the Canadian maps built into this model are super cool too!
In our honest opinion, hubby and I both love this new Garmin GPS Navigator. Matter of fact, neither one of us have anything negative to say about it. Garmin just keeps improving them and making them better as time goes on and it's the ONLY brand we trust when we are traveling down the road. You just can't get any better than this!
* This post contains affiliate links. If you make a purchase, we may or may not receive a small commission which helps to support this site. Thank you!

Disclaimer: Shelly  has personally reviewed the product listed above. Shelly has not received any monetary compensation for her review. Shelly did receive a free product to try out so she could evaluate and use it for her review. Her thoughts & opinions in this review are unbiased & honest and your opinions may differ. Two Classy Chics is not responsible for delivery of any giveaway items won from this blog. We are not responsible for injury or mis-use of any products won from the Two Classy Chics Blog. Please read our Terms of Service & Disclaimer Policy before entering our giveaways. This giveaway is not affiliated with Facebook or Google+ in any way. Thanks!