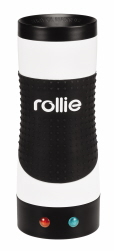 Today I would like to introduce you to a new small kitchen appliance that is taking the retail market by storm and it's called the Rollie Eggmaster Cooking System! Even though the Rollie is mainly used for making eggs it can be used with hotdogs, sausages and other things too!
It's a new vertical grill that is simple to use! You simply crack your eggs, pour them into the Rollie and within a few minutes, your eggs pop up perfectly cooked! It's the perfect egg cooking system for home, dorms, the workplace, RV, camp site, etc! Any where that their is electrical power, you can use the Rollie!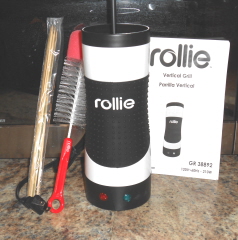 The Rollie comes with the Rollie Eggmaster Cooking System, a cleaning brush, skewers, a packing tool, user's guide/recipe booklet and a 1 year limited manufacturer's warranty.
For the purpose of this review, we made the Rollie Feta & Egg and Rollie Bacon Egg recipes one morning for breakfast. We simply sprayed the cooking chamber with nonstick cooking spray and then followed the simple recipes in the recipe booklet. The entire process from start to finish, took less than 8 minutes.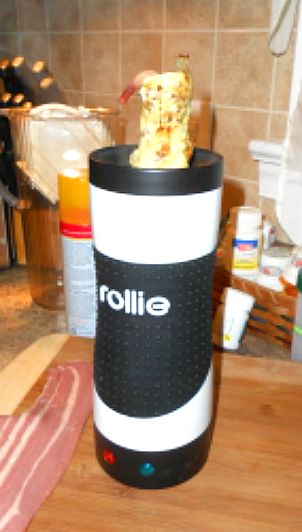 On another day, we inserted a hotdog for into the Rollie for Princess Gia. She loves eating hot dogs so we used the Rollie Egg Dog recipe in the recipe booklet. Simple and you only need one large egg and a thin hot dog to make it! Within a few minutes, she had a hot brunch to eat. She loved standing on a chair and watching her lunch cook inside the Rollie!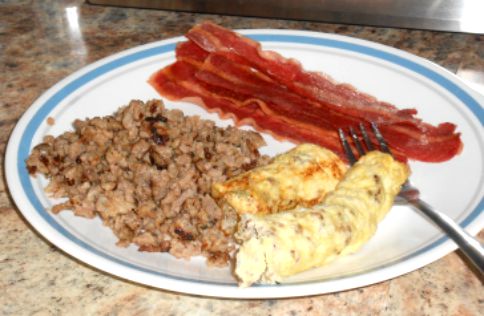 The Rollie is very easy to clean…simply use the included cleaning brush, a little liquid dish soap and rinse it clean. The chamber has a nonstick interior, so it really only takes a few quick minutes to clean-up.
One of the features I like about the Rollie is the red & green indicator lights. When the red light comes on, the unit is plugged in and warming up. When the green indicator light comes on, the Rollie is ready for whatever you are cooking inside it. There is no guessing on when the unit is ready!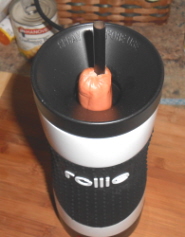 Another thing that I like about it is it's slim profile! It doesn't take up too much counter space and is about the size of a large thermos. I keep my Rollie stored inside my pantry closet on a shelf and trust me, it doesn't take up much space at all. Matter of fact, it's the perfect size to take traveling!
Next week I want to try to make their Chocolate Banana Rollie and their PB & J Rollie as I think my family will love them! Plus, I am all about quick & easy snacks and appetizers these days and each of these recipes take less than 4 ingredients each! Yay!
This is the same exact Rollie Eggmaster Cooking System that you have been seeing all over TV and guess what? They are running a special on the Rollie right now! You can head on over to the GetRollie.com web site to learn more about the Rollie and to order it online today!
* This post contains affiliate links. If you make a purchase, we may or may not receive a small commission which helps to support this site. Thank you!

Disclaimer: Shelly has personally reviewed the product listed above. Shelly has not received any monetary compensation for her review. Shelly did receive a free product to try out so she could evaluate and use it for her review. Her thoughts & opinions in this review are unbiased & honest and your opinions may differ. Two Classy Chics is not responsible for delivery of any giveaway items won from this blog. We are not responsible for injury or mis-use of any products won from the Two Classy Chics Blog. Please read our Terms of Service & Disclaimer Policy before entering our giveaways. This giveaway is not affiliated with Facebook or Google+ in any way. Thanks!