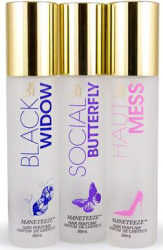 Looking for a new way to boost your hair style after a long dry winter? Tired of dull, flat and coarse hair? MANE TEEZE introduces their new line of hair products just in time for Spring.
These hair perfumes contain a higher concentrate than average perfumes, but are much gentler for use on the hair. The long lasting fresh scent is noticeable for up to 12 hours and even helps to extend the life of a blow dry. Only a couple of spritzes provide all-over coverage without leaving a greasy consistency or drying out hair.
The hair perfume line is comprised of 3 long-lasting scents:
Black Widow: This husky fog of luxury contains enchanting undertones of dark amber for a smoky, intoxicating scent. This aroma has bite that will leave everyone wanting more.
Social Butterfly: Sweet, soft vanilla infused luxury. This delicious hair fragrance matches a busy, bubbly life.
Haut Mess: This luscious mix of chocolate, caramel, and dessert-like scents engulf hair. Three sprays of this decadent hair perfume will sweeten any mood.
My Thoughts: During the weekends I enjoy going out with my boyfriend or the girls for dinner, clubbing, shopping and other activities. Often times my thick and long hair will pick up the disgusting smell of cigarette smoke (no, I do not smoke) and I hate that smell being in my hair!
I received the "Haut Mess" scent in this new hair perfume for the review and after one use, I was immediately in-love with it! I mean really, what's not to love about the smell of chocolate and caramel mixed together??? This hair perfume smells like the finest chocolate and caramel candy bar that money can buy!
It's really concentrated, so for my thick and long hair, I only use 2 sprays and it lasts for hours! It doesn't leave my hair sticky, greasy or oily. I can run a comb or brush through it too and it doesn't make your hair stiff like hairspray at all! It smells delicious and I love how it makes my hair smell (my boyfriend loves smelling my hair too!).
The 50ml sized glass spray bottle looks just like an elegant perfume bottle and a little bit goes a long way. This bottle would last you for several weeks, if not months! It is available for purchase at US & Canada Blo Blow Dry locations, select boutiques and online at http://www.manteeze.com for $35.00 which makes this delicious smelling hair perfume affordable.
I never thought I would enjoy wearing a hair perfume but now that I have tried one, I am sold! It's a great way to cover up funky smells that your hair picks up while being around others or while cooking stinky dishes at your own home. It's a fabulous product and I am so glad that I have it and will continue to buy them in the future! Great stuff!

Disclaimer: Jenelle Hill has personally reviewed the product listed above. Jenelle has not received any monetary compensation for her review. Jenelle did receive a free product to try out so she could evaluate and use it for her review. Her thoughts & opinions in this review are unbiased & honest and your opinions may differ. Two Classy Chics is not responsible for delivery of any giveaway items won from this blog.
6 Responses to "MANE TEEZE Hair Perfume by T&M :: Review"