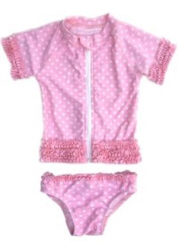 As you all know, I am the proud grandmother to a precious little girl who will be turning 4 years old this May. Wow, time sure does fly when they are wee ones! Anyway, Princess Gia spends a lot of time at our home, especially during the summertime. In addition, we take the Princess with us down to our beach house at least once a year. What does all of this mean? It means that Nanny must have the appropriate swimwear for her.
Today, I get to introduce you all to a company called SwimZip who makes UV 50+ swimwear for babies, toddlers and young children. This company is getting all kinds of great buzz and were featured on The Today Show. As parents and grandparents, it is our job to protect our little ones from the harmful rays of the sun. We can do our part by investing in quality swimwear with UV 50+ protection.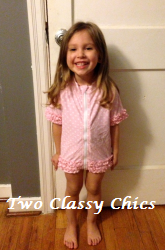 The company sent us their little girl's pink Sassy Surfer Swimsuit to review for all of you. This swimsuit will help to block UVA and UVB rays and is chlorine resistant. It's a 2-piece swimsuit with a top and bikini style bottom done in bubblegum pink with sassy white polka dots.
The swim top features a zip-up front and I love that! Often times those neck holes on other types of swimsuits are a nightmare to get over your child's head. In addition, when swimsuits are wet, they cling to your body like plastic wrap. This top zips on and off quickly, nothing to fumble around with! There are ruffles that go around each sleeve (it's a short sleeve swim top) and around the bottom hem of the shirt.
The swim bottoms are done in your classic bikini style and really cover up the butt nicely. I do NOT enjoy seeing butts hanging out of swim suit bottoms and this one gives you the perfect coverage that you want. The leg openings are cut perfectly and do not gap open around your child's leg. The waistline of the swim bottoms has cute ruffles, just like the swim top.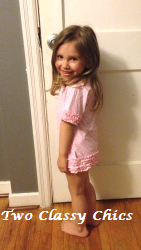 Princess Gia just went into a size 4T so that is the size that we ordered. I would recommend ordering true to size! Her's is a tad big and I mean a "tad" but I wanted it to be a "tad" big because we won't be hitting the pool here until late May. So, in my opinion, stay true to size. This particular swimsuit comes in sizes 6 months to 4T and only costs $29.99 which is a fabulous price point!
We are really impressed with the quality of this swimsuit and I know that Princess Gia is going to love wearing it all summer long!  Fabulous products!
Giveaway: One lucky winner can choose either a boy's or a girl's SwimZip Swimwear item in the size that you need! Yay!!!

Disclaimer: Shelly Hill has personally reviewed the product listed above. Shelly has not received any monetary compensation for her review. Shelly did receive a free product to try out so she could evaluate and use it for her review. Her thoughts & opinions in this review are unbiased & honest and your opinions may differ. Two Classy Chics is not responsible for delivery of any giveaway items won from this blog. We are not responsible for injury or mis-use of any products won from the Two Classy Chics Blog. Please read our Terms of Service & Disclaimer Policy before entering our giveaways. This giveaway is not affiliated with Facebook or Google+ in any way. Thanks!