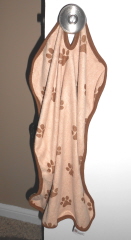 I am the mom to an almost 5 year old pit bull & husky mix dog who is an important part of our family. We adopted Nellari when she was 10 weeks old and fell in love with her from day one. Every day Nellari spends some time outside doing her "business" and during the warmer seasons of the year, she spends a lot more time outdoors when we take her to our local dog park.
One of the things I have always hated about letting her outside is when the weather is bad and she comes into the house soaking wet! The first thing she does once her toes are through the doggie door is…shake, rattle and roll to get all of that water off of her. That water then flies around my kitchen and makes a royal mess.
Well, I was super excited to review the Dry Pets Super Absorbent Microfiber Towel by Luv & Emma's for all of you. This microfiber pet towel can be used on dogs, cats, rabbits or whatever furry wet pet you may be dealing with.
Towel Features:
* Hangs on virtually any door handle
* Made from super absorbent microfiber
* Dries fast
* Eliminates paper towel waste
* For all size breeds – measures 21″ by 17″ in size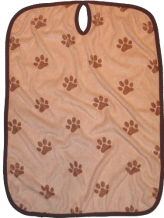 We have been getting a lot of narly weather around here including rain, sleet, snow and ice, and Nellari has been getting soaking wet almost every time she goes outside to do her business. It has been so cold here, that she is in & out the door quickly, but still, she is getting soaking wet.
Thanks to the built-in hanging loop at the top of the towel, I have been keeping the towel hanging on the door knob in the kitchen. When Nellari runs inside from being outside, she immediately comes over to me for her "drying time" aka treat & lovey time. While she is chomping down on her treat, I love her up & dry her off.
I think this microfiber towel is way too cute! It has a light brown background with little dark brown paw prints all over it. It definitely speaks "dog" to me! Nellari is a medium-sized pit bull & husky mix and the towel is the perfect size for her and I have caught her several times dragging it over to her doggie bed and snuggling with it too!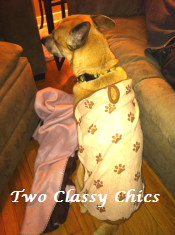 Clean up is a snap since it's made from microfiber…simply toss it into your washing machine and tumble dry low or hang to dry. You do not want to use bleach or fabric softener when laundering it, due to the microfiber fabrication. Trust me, it washes up really nicely and dries quickly.
The Big E and I are really impressed with this pet towel as it is doing a wonderful job at drying off Nellari and she doesn't mind it at all, matter of fact, she now looks forward to her "few" minutes of love & dry time with me! Thanks Luv and Emma's.

Disclaimer: Jenelle has personally reviewed the product listed above. Jenelle has not received any monetary compensation for her review. Jenelle did receive a free product to try out so she could evaluate and use it for her review. Her thoughts & opinions in this review are unbiased & honest and your opinions may differ. Two Classy Chics is not responsible for delivery of any giveaway items won from this blog. We are not responsible for injury or mis-use of any products won from the Two Classy Chics Blog. Please read our Terms of Service & Disclaimer Policy before entering our giveaways. This giveaway is not affiliated with Facebook or Google+ in any way. Thanks!