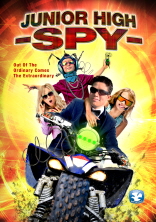 Kids take matters into their own hands in the family-friendly, action-packed adventure: Junior High Spy, saving the day on  DVD, February 19th, 2013 from Inception Media Group.
DVD Synopsis: When his F.B.I. agent father is kidnapped, Ricky Lazio, Jr. believes he knows who did it…but the agency dismisses his lead as child's play. Forced into action and armed with an array of his dad's high-tech, spy gadgets, Ricky enlists the aid of his quick-thinking, computer-genius best friend, to help track down his dad.
From thrilling motorcross races, to speed boat chases, to martial arts showdowns, they now need to evade the watchful eye of the F.B.I., get their homework done before dinner and save the day!
Starring: Christopher Fazio, Mikayla Ottonello, Matthew Downs, Harry Edison, Martha Zimmerman, Dorothy Downs, Chris MCauley and Jessica Ducharme.
Movie Genre: Action/Adventure/Family  Run Time: 87 Minutes
Our Thoughts: About once a month we have our 2 nephews down to spend the afternoon with us and often times during those visits we play games and/or watch movies with them. My nephews C and S are ages 11 and 14 years of age. Last weekend we invited them down to have pizza with us and to watch this new DVD called Junior High Spy with us.
The DVD is about the Lazio family where Mr. Lazio is an F.B.I. agent and works for the US government. He is kidnapped and the family reports that kidnapping to the F.B.I. along with Ricky Jr's. thoughts on who kidnapped his dad. The F.B.I. doesn't believe Ricky Jr. and pay no attention to him, since he is just a kid.
Ricky decides to take matters into his own hands and enlists the help of his best friend who is a computer-genius to help find his F.B.I. agent dad. The two of the embrark on some high-speed chases and are following the clues, while tracking down the bad guys who kidnapped his dad.
The movie has a nice story line with many twists and turns, which keep you guessing on what is going on throughout the movie. There are some really funny parts in this movie that you can't help but laugh your butt off at and in my personal opinion, it's a great movie for you to watch with your older kids. Great for family movie nights!
I wouldn't use this movie for family movie nights with preschooler's and toddlers, as our almost 4 year old wasn't interested in watching it all. Definitely for the older kids, like ages 8 years and up. Overall, we really liked it and would recommend it to all of you, especially if you have kids in the family who enjoy these types of family-friendly movies.
About Inception Media Group – Inception Media Group, LLC was formed in November of 2009 by industry veterans, David Borshell and Andy Reimer, in response to the growing demand for entertainment distribution among independent content providers. Inception Media Group is based in Los Angeles, California and is a diversified media company specializing in the production, acquisition and distribution of motion pictures and other filmed entertainment across all media platforms and channels of distribution. Inception Media Group's management team has extensive relationships with exhibitors, retailers, distributors and technology companies, enabling the Company to maximize the services performed on behalf of its content partners.
3 Responses to "Junior High Spy Saves the Day :: Movie Review"