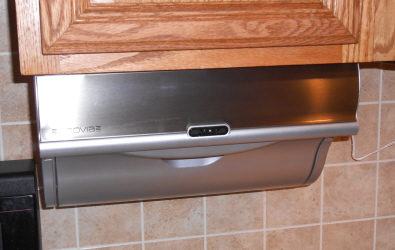 When I typically think of automatic paper towel dispensers, I typically think of those big ugly ones you see out in public restrooms, schools and restaurants. I have always liked paper towel dispensers, but could never find any that were attractive enough for my home…until now!
Let me introduce you to the INNOVIA Automatic Paper Towel Dispenser that comes in 4 gorgeous home decor colors: Black, Silver, Red and White. When you purchase this product, everything comes nicely packaged inside the box, including the easy-to-understand instructional booklet. Before I get rolling with this review, I want to state that anyone (man or woman) with a few basic household tools can have this paper towel dispenser installed in just a few minutes. You do NOT need to hire outside help!
Automatic Paper Towel Dispenser Features:
* Uses all standard sized rolls of paper towels.
* Easy-to-use (just wave your hand in front of the sensor and a paper towel comes out).
* Replace your rolls quickly & easily via the drop-down door (takes about 3 seconds).
* Smart Dispense Sensor – delivers the right amount of paper towels that you need. If excess towels come out, it will roll them back into the unit automatically.
* Easy-to-clean, just wipe down with a damp cloth when needed.
* Attractive & Innovative Design adds "high-style" to your kitchen.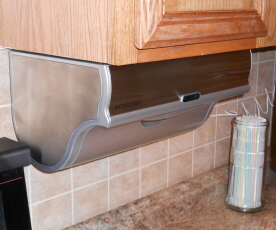 Our Review: I was really excited about reviewing this item as we are very limited on counter space here in our new kitchen. I was looking for an under-the-cabinet option for holding my paper towels and everything I saw out in the retail marketplace…was UGLY! I stumbled upon INNOVIA and immediately fell in-love with the sleek look of their paper towel dispenser.
For the review, I chose the silver color because we just ordered all new stainless steel appliances. Once the dispenser arrived, hubby unpacked it from the box, read over the instructions and then got busy installing it. He said the instructions are really easy to understand and it only took him about 12 minutes to get in installed. He loves quick & easy home improvement projects like this!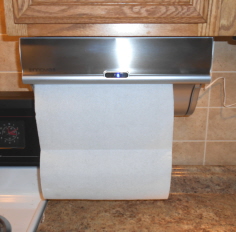 Once installed, he inserted a roll of paper towels and plugged the unit into the electrical outlet. To get your paper towels to come out, you simply wave your hand in front of the sensor…in our case, 2 or 3 towels come out at once and then I rip off the one or two that I need, and the unit retracts the remaining paper towel back into the dispenser.
I really wish our new kitchen lighting was installed as I think my photos would of came out better with it. We really love the sleek and modern design of this paper towel dispenser and it fits really nicely underneath our new kitchen cabinets. I think it's going to look even better once my new stainless steel appliances arrive later this month!!!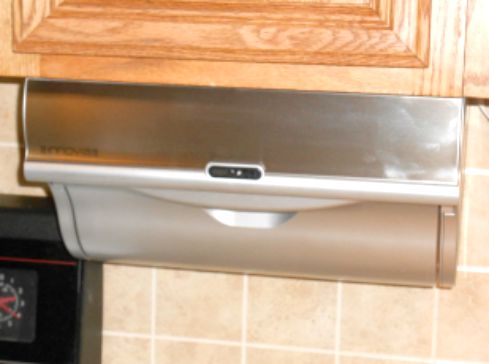 Since having this automatic paper towel dispenser, I have used a lot less paper towels and the reason being is…that they are not sitting on my counter-top getting wet or rolling around all over my floor when someone drops the roll. I love that they are in the dispenser staying nice & dry…plus they are hidden away. (paper towels are not pretty things to look at!).
The unit was really easy to install, super easy to use and the price…super affordable! The real bonus is the 4 gorgeous colors that it comes in!!! (I had a hard time choosing between the silver or that gorgeous red, but glad I went with the silver). I think every home in America that uses paper towels should have one of these nifty paper towel dispensers!
* This post contains affiliate links. If you make a purchase, we may or may not receive a small commission which helps to support this site. Thank you!

Disclaimer: Shelly has personally reviewed the product listed above. Shelly has not received any monetary compensation for her review. Shelly did receive a free product to try out so she could evaluate and use it for her review. Her thoughts & opinions in this review are unbiased & honest and your opinions may differ. Two Classy Chics is not responsible for delivery of any giveaway items won from this blog. We are not responsible for injury or mis-use of any products won from the Two Classy Chics Blog. Please read our Terms of Service & Disclaimer Policy before entering our giveaways. This giveaway is not affiliated with Facebook or Google+ in any way. Thanks!