I love a nice cocktail every once in a while and I am so thrilled to share with you a fabulous new liqueur that just blew me away. Oh, I should say, not only me, but my hubby too! This is an awesome find and for those that love to sip an after dinner drink occasionally, you are going to enjoy this. I am talking about a new product called Prévu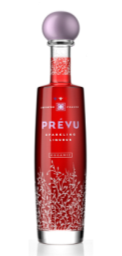 Prévu has an excellent blend of wheat based vodka and cognac, which is distilled in Cognac, France. The sparkling liqueur contains 70% vodka and 30% cognac. This delicate beverage is immersed with black currant, raspberry, blackberry and a touch of violet flower. What is interesting and amazing about this is that Prévu's ingredients are all certified organic and natural with only a 17% alcohol proof. So this is a light, sophisticated beverage that you can enjoy anytime.
The bottle design is very cool and beautiful! It has a custom transparent dual-layer skin cap that was specifically hand crafted for easy handling and accompanied by a laser-etched surface. It is a pretty bottle and I love the pale purple cap!
Prévu sparking liqueur has a few cocktail recipes ready to go for Valentine's Day including:
The First Kiss
- 3 oz. Prévu
-1 oz. champagne
-raspberry garnish
Pink Lady
-3 oz. Prévu
-1 oz. champagne
-splash of lemon juice
My thoughts:
I had the distinct pleasure of sampling this product and let me say, this is one of the best tasting liqueurs I have hand in a very long time. Even my husband, who rarely enjoys a cocktail, was over the moon with this. The blend of flavors is totally unique. I love that it does not have an overly alcoholic taste. The vodka is tempered with the cognac and it is very delightful! The folks at Prévu recommend drinking this on the rocks with lime so that is what I did and it is so smooth and delicious!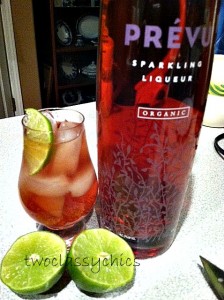 You can taste the organic fruity flavors and there is no bite at all to it. It is a beautiful, smooth beverage that I totally enjoyed! The lime gives it a nice additional citrus flavor that blends well with the fruit. The cognac is amazing and really takes this liqueur over the top. I love this truly unique beverage and I think you will too.
I love that this is a California beverage! Truly unique, just like we are. Prévu is still a new product and they are slowly growing. Keep your eyes peeled for it in your area soon and then you have to try it! Delicious!
About Prévu
Prévu was created by 27-year-old, owner Simon Tikhman – who has always had an interest in owning his own alcoholic beverage company. Since being raised in a organic household then studying Business at USC, Tikhman felt there wasn't enough focus on organic/natural alcoholic drinks. Within a year, he was inspired by the city of San Francisco and developed Prévu.
Currently, Prévu is served in San Francisco at Circa Lounge, Manor West and Mas Sake. In Los Angeles, Prévu can be found at Craig's, BOA, 1902 and Chinois on Main in Santa Monica even has an official Prévu drink!
You must be 21 to consume alcohol. Please drink responsibly

Disclaimer: Chris Carroll has personally reviewed the product listed above. She has not received any monetary compensation for her review but did receive a free product to try out so she could evaluate and use it for her review. Her thoughts & opinions in this review are unbiased & honest and your opinions may differ.
5 Responses to "2 Cocktail Recipes from Prévu Sparkling Liqueur for Valentine's Day + Review"