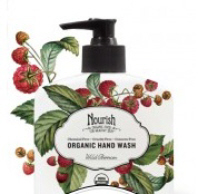 For the past 8 weeks we have all heard the news reports about the flu epidemic that has been sweeping our nation. One of the things that all leading medical experts tell us to do to help prevent the spread of the flu is to frequently wash our hands. With all of that hand washing that goes on…our hands dry out and become sore.
Well guess what? It doesn't have to be that way if you use the Wild Berries Organic Hand Wash by Nourish!
Nourish is a new beauty and personal care brand and among the first to offer a full 100 percent USDA certified organic bath and body collection. The new Nourish collection relies solely on effective, nutrient-rich USDA certified organic fruits, vegetables and plant extracts, nothing more, to feed and treat the skin the way nature intended.
The company sent me a 7 fl. oz. pump bottle of their Nourish Organic Hand Wash in the Wild Berries scent to try out for all of you. I am a former healthcare worker and I wash my hands at least 10 times a day, every day! My hands used to get very dry, sore and sometimes I would get cracks and cuts from the dryness. I was really excited to give this organic hand wash a try.
The organic hand wash comes in 4 delightful scents: Fresh Fig, Almond Vanilla, Lavender Mint and Wild Berries. The Nourish products are formulated and manufactured in the USA, so you can feel good about purchasing and using their products! I love USA made goods! The Nourish products contain no synthetic ingredients, no chemicals, no preservatives, GMO's or parabens! The products are cruelty-free, gluten-free and vegan.
My thoughts: I have been using the organic hand wash by Nourish for the past 8 to 10 days and let me tell you, I am utterly and totally in-love with this hand wash! You simply moisten your hands under running water, pump up one squirt, massage your hands together for a minimum of 30 seconds and rinse.
The consistency to this hand wash is fantastic and I love the wild berries scent. It smells heavenly! The more that I use this organic hand wash to wash my hands, the softer my hands get! My dryness is totally gone and my hands look soft & dewy. Frankly, I think I lost 5 years off my hands and this isn't an anti-aging product! LOL
A little bit of this hand wash really goes a long way and I appreciate that. I am all about using less! The pump bottle is cute and you don't mind letting this hand wash sit out on your counter or bathroom vanity.
Head on over to the Nourish store and check out all of their wonderful organic products that they have to offer. You will be glad that you did!

Disclaimer: Shelly Hill has personally reviewed the product listed above. Shelly has not received any monetary compensation for her review. Shelly did receive a free product to try out so she could evaluate and use it for her review. Her thoughts & opinions in this review are unbiased & honest and your opinions may differ. Two Classy Chics is not responsible for delivery of any giveaway items won from this blog. We are not responsible for injury or mis-use of any products won from the Two Classy Chics Blog. Please read our Terms of Service & Disclaimer Policy before entering our giveaways. This giveaway is not affiliated with Facebook or Google+ in any way. Thanks!
5 Responses to "Wild Berries Organic Hand Wash by Nourish :: Review"