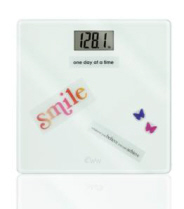 Now that the holidays are over with, my hubby is back on his diet and fitness schedule. Last year he put on 21 lbs over a 2 1/2 month period and luckily this holiday season, he only gained 14 lbs. With that said, he is hoping to shed those 14 lbs. within the next 2 to 3 months.
To keep him motivated, he has been using the new Weight Watchers digital bathroom scale by Conair. This is a fabulous scale that is fun to use and in the process, inspirational too! The sleek, slim silver glass scale has an easy-to-read 1.5" digital display. The scale is 12.4" X 12.4" and has a 400-lb. capacity. The scale runs on one long-life AAA lithium battery (included) and has a 10-year warranty.
Information about the product from the company:
Weight Watchers® by Conair™ Digital Scale (Model WW58S)
Motivate yourself by customizing your scale with removable message decals! This Weight Watchers® by Conair™ Digital Scale is perfect for staying focused and inspired by your goals. Recently awarded the Good Housekeeping Seal of Approval, it comes with 15 reusable stickers that have inspirational messages such as "Every day is a new day", "Live, Laugh, Love", and "Whatever you believe you can achieve." Also included are some decorative stickers and a blank label which allows you to write your own inspirational message to keep you on course for those skinny jeans. Perhaps someone in your family – your husband, daughter, mom – wants to use the label to create their own special messages for you to give you an extra boost of motivation and confidence.
Our Thoughts: As you all know, I was MIA for 4 weeks and was in the hospital. While I was gone, hubby immediately got busy using this new bathroom scale. One of the things he really likes about this scale is that it's well-balanced…in other words, he doesn't wobble all around while standing on it. He loves that it has a large and easy-to-read digital display that he can clearly see, even without his eyeglasses on! Let's face it, most of the time we weight ourselves before or after our shower & who wears their eyeglasses for that?
He doesn't use the inspirational messaging but since I have been home from the hospital, I have been using them to leave him little messages on the scale to encourage him on and to praise him for a job well-done. They are totally fun and way too cute! Even though I feel this is a girly girl type of scale, the guys can use it too and hubby is indeed using it and enjoying it!
* This post contains affiliate links. If you make a purchase, we may or may not receive a small commission which helps to support this site. Thank you!

Disclaimer: Shelly has personally reviewed the product listed above. Shelly has not received any monetary compensation for her review. Shelly did receive a free product to try out so she could evaluate and use it for her review. Her thoughts & opinions in this review are unbiased & honest and your opinions may differ. Please read our Terms of Service & Disclaimer Policy before entering our giveaways. This giveaway is not affiliated with Facebook or Google+ in any way. Thanks!