Are you a Chocolate Lover? Valentine's day is just around the corner and we have a delicious gift idea for you and your loved one. How about the Dove Sea-Salted Caramel Collection for a delicious taste sensation?
DOVE CHOCOLATE DISCOVERIES™ launched in February 2007 as one of the latest ventures from Mars, Incorporated, a world-wide industry leader in chocolate confections. With over 100 years of candy-making experience behind them, DOVE CHOCOLATE DISCOVERIES™ is dedicated to creating the ultimate chocolate experience – in the comfort of your own home, providing an opportunity to share some sweet moments with family and friends.
Did you know:
• DOVE® Chocolate is an established, popular brand that conveys high quality and great taste.
• The U.S. Chocolate market alone is over $17 billion annually.
• Millions of men and women enjoy the occasional chocolate treat.
• Dove Chocolate Discoveries products are consumable and create great opportunities for repeat purchases. They are affordable and make great gifts!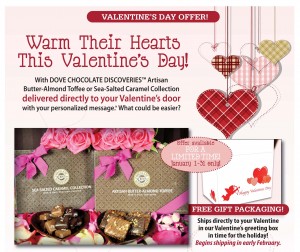 Brought to us by Jeff Smith, Independent Chocolatier #14999, we have a delicious treat that you can gift to your favorite valentine this year… Or if you have been good, spoil yourself a bit too!
Here is a special value you can get in on this Valentines Day if you order by Jan. 31, 13. Check out the Dove Sea-Salted Caramel Collection:
Salt? On chocolates?! An entirely new taste sensation! Wrapped around chewy, buttery caramel, DOVE CHOCOLATE DISCOVERIES™ Milk- and Dark Chocolates are accented with six different exotic sea salts like Pink Himalayan and Bolivian Rose. Taste how each subtly enhances all the flavors. (24 Pieces in a Gift box)
The Giveaway:
Jeff is offering to one lucky winner a Sea-Salted Caramel Collection to keep or share for this Valentines DAY! Here is how to enter.
Loading Entry-Form…
…
Disclaimer: Please read our Official Rules before entering this giveaway. We must receive all entries by the end date of the contest and the odds of winning are determined by the number of entries received. No purchase necessary to enter. All Content on this site is Copyright of the Two Classy Chics All Rights Reserved