I have been a fan of romance novels since I was a teen. The gushier they are, the better. I think it would be safe to say that I have read hundreds upon hundreds of romance books and I can honestly say, this book is extraordinary! I read this in one evening because I could not put it down and when I am still thinking about it the next day, longing for the next installment, you know it is an awesome book! I am talking about:
Reflected in You
by Sylvia Day
ISBN-10: 0606269568
ISBN-13: 978-0606269568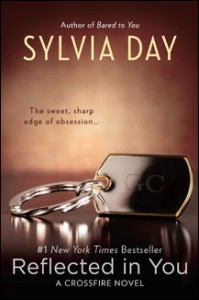 You already have Fifty Shades of Grey…so now what? The natural choices are Bared to You and Reflected in You by Sylvia Day; the first and second installments in the Crossfire series that is taking the nation by storm. Already bestsellers, the Crossfire novels can stand on their own and the most recent installment, Reflected in You, debuted at #1 on the New York Times paperback bestsellers list and took over the #1 spot on the New York Times trade paperback fiction list from Fifty Shades of Grey (November 11th and 18th).
About Reflected in You:
Reflected in You is the second book in the Crossfire series about recent college graduate Eva Tramell and billionaire Gideon Cross. The book finds Eva and Gideon trying to work through their emotional scars and abusive pasts in order to create a functional and loving relationship based on trust, a concept foreign to both of them. The series explores the developing physical and emotional relationship of these two complex characters.
My Thoughts:
When I first read Bared to You, the first book in the Crossfire series, I fell in love with Sylvia Day's writing. Her characters are superior, intelligent, complex people that draw you in with the emotional, raw feelings. With Reflected in You, the second book in the series, my love for her writing has grown leaps and bounds! I do have favorite authors and she has just risen to the top.
In Reflected in You, Gideon and Eva story continues right where we left off. Their deep and profound love is amazing in many aspects and makes me jealous of their relationship. If only something like that were real! LOL But honestly, these are two people that have very complex issues and they balance each other in many ways and yet fight each other too. Trust is a huge issue for both and yet their love and physical need is so incredibility intense! Gideon and Eva have so much to work on as they try and figure out give and take and balance.
Reflected in You brings issues from the past into the forefront with drama and intense emotion. I am having a hard time describing the story to you with out spilling the story to you so lets just boil it down to my reasons you should read this book:
* It is steaming HOT – if you want to read this, you better be able to handle the love scenes
* The story line is credible and easy to follow – not a lot of jumps and starts
* The characters are young and beautiful and we all wish we could be like them
* The writing is good and it pulls you right into the story. You really are involved with the characters and become one with them
I have read many reviews on this series, slamming the books for being a lot like the 50 Shades series. Regardless of whether or not this is the case, the fact is, the writing in this series is beyond E.L. James offering. Plus there is none of the dark, physically painful side of love, which many do not care to read. In this series, the characters are so much more developed and real. Their relationship and romantic scenes are intense and so steaming hot. I could not put this book down, nor could I in the first book, Bared to You. I know I will be waiting on pins and needles for the next book in the Crossfire series to come out. I am in love with their beautiful story and just like everyone else that loved this book, I am clamoring for more.

About the Author
Sylvia Day is the #1 New York Times and #1 international bestselling author of more than a dozen award-winning novels translated into over three dozen languages. She has been nominated for the Goodreads Choice Award for Best Author and her work has been honored as Amazon's Best of the Year in Romance. She has won the RT Book Reviews Reviewers' Choice Award and been nominated for Romance Writers of America's prestigious RITA award twice. Visit the author at www.sylviaday.com

Disclaimer: Chris Carroll has personally reviewed the product listed above. She has not received any monetary compensation for her review but did receive a free product to try out so she could evaluate and use it for her review. Her thoughts & opinions in this review are unbiased & honest and your opinions may differ.
3 Responses to "Reflected in You – A Crossfire Novel by Sylvia Day: Book Review"