I love Christmas and with that comes all of the awesome recipes and decorations that we love so much. Gooseberry Patch has been a staple around my home for many years with their awesome cookbooks, crafting books and decorating books too. I love their simple yet festive creations and I think that you will too!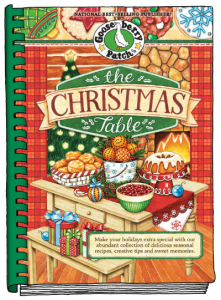 Gooseberry Patch: The Christmas Table Cookbook
Hardcover: 224 pages (209 b&w illustrations; 209 recipes & tips; index)
Publisher: Gooseberry Patch
Distribution: Retailers nationwide and www.gooseberrypatch.com
Language: English
ISBN-10: 1612810543
ISBN-13: 978-1612810546
This year, Gooseberry Patch published a new cookbook filled with all lads of delicious Christmas favorites! Check out some of the awesome Contents:
Cozy Christmas Brunch
Chill-Chasing Soups and Breads
Caroling Party Supper
Classic Christmas Dinner
Festive Holiday Fare
Sweet Treats to Share
I love this book due to its spiral bound binding that makes it super easy to flip to your recipe and not have to fight it! The size is a traditional book size with makes it prefect for sitting on the counter while you prepare the recipe. Just awesome!
Collectors will love the crafts, ideas and memories sprinkled throughout the book, features for which Gooseberry Patch cookbooks are known. Newcomers to the series will enjoy the variety of tried and true recipes from everyday cooks from all over the country. Each appears with the contributor's name and hometown, plus a story about what makes the dish so special to their family.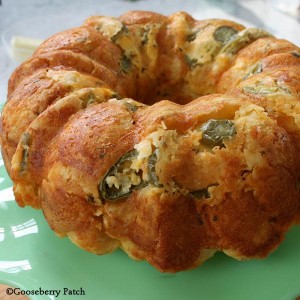 Enjoy this free sample recipe from The Christmas Table
Fiesta Bubble Bread
Amy Hunt of Traphill, North Carolina shared this quick & easy
recipe with Gooseberry Patch. So simple to make, it's sure to be
a hit whether served at home or taken along to share.
1/2 c. butter, melted
1-1/2 c. shredded Mexican-blend cheese
1/4 c. shredded mozzarella cheese
10-oz. jar sliced jalapeño peppers, drained
1 t. dried parsley
2-12-oz. tubes refrigerated biscuits, cut into quarters
In a large bowl, combine butter, cheeses, pepper slices and parsley;
add biscuits and toss to coat. Transfer to an ungreased Bundt® pan.
Bake at 350 degrees for 30 minutes, or until golden. Invert onto a
serving plate; serve warm. Serves 8.
About Gooseberry Patch
Back in 1984, Vickie Hutchins and Jo Ann Martin were next-door neighbors raising their families in Delaware, Ohio. They were two moms with small children looking for a way to do what they loved and stay home with the kids too. They shared a love of home cooking and making memories with family & friends. After many a conversation over the backyard fence, Gooseberry Patch was born.
Today, Gooseberry Patch is best known for its homestyle family-friendly cookbooks and line of art calendars. With more than 200 titles and nearly 9 million copies in print, plus a new collection of eBooks and instructional cooking videos, Gooseberry Patch has grown from a kitchen-table operation to a nationally recognized bestselling publisher. Affordably priced from 99 cents to $16.95, the books are themed with today's time-strapped, budget-conscious families in mind. Many recipes include personal stories from contributors, giving the cookbooks a warm community feel that has proven extremely popular among cookbook fans and collectors.
The Giveaway:
We are so pleased to offer a copy of this beautiful Cookbook to one lucky winner! Here is how to enter!
Loading Entry-Form…
…
Disclaimer: Please read our Official Rules before entering this giveaway. Chris Carroll has personally reviewed these products. I have not received any Monetary Compensation for this review but did receive free products to use & evaluate for the review. Your thoughts & opinions may differ from me. We must receive all entries by the end date of the contest and the odds of winning are determined by the number of entries received. No purchase necessary to enter. All Content on this site is Copyright of the Two Classy Chics All Rights Reserved