With autumn in full swing, it's time to start thinking about some tasty Halloween cocktail recipes for all of your upcoming spooky Halloween parties! Today, we have 2 delicious cocktail recipes to share with all of you from the great folks over at Sparkling ICE and Voga Italia wines.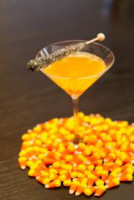 Sweet and Spooky Creamsicle
1.5 oz Vanilla flavored vodka
3.5 oz Orange Mango Sparkling ICE
Combine all ingredients in a shaker with ice. Shake and strain into a chilled martini glass. Serve with candy corn and rock candy swizzle stick.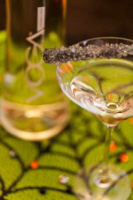 Sparkling Candy Apple
1 ½ oz Apple flavored rum
1 tbsp lime juice
1 teaspoon of simple syrup
3 oz VOGA Italia Sparkling Wine
Shake the rum, the juice and the syrup with cracked ice. Strain into a chilled white wine glass and fill with VOGA Italia Sparkling Wine.
Disclaimer: These alcoholic cocktail beverage recipes are for adults who are 21 years of age or older. Please drink responsibly.
About Sparkling ICE®
Delicious, zero calories and refreshing, Sparkling ICE combines mountain spring water, natural flavors, real fruit juice, vitamins and antioxidants to create tasty, lightly-carbonated, refreshments in assorted thirst-quenching flavors. A great alternative to soft drinks, appealing to all age groups, diabetics and the health-conscious, Sparkling ICE is available in eight distinct, delicious flavors sweetened with Splenda, all of which are caffeine-free, Kosher U and free of sodium and carbohydrates.
About VOGA Italia
VOGA Italia hails from Italy, the country best known for producing some of the world's best wine as well as its' keen sense of style. VOGA Italia encompasses all aspects offering a collection of crisp delicious wine thoughtfully packaged in a revolutionary re-designed bottle featuring a unique resealable cap. Since the company's inception, VOGA has earned numerous awards and accolades for their sleek and sexy glass cylindrical bottle, presentation and most importantly taste. The collection retails from $10.99 to $15.99 and includes Pinot Grigio, Merlot, Moscato, and Premium Sparkling. VOGA is available in over 62 countries, hundreds of major cities, and can be found in thousands of the world's trendiest bars, restaurants and shops. Wherever, whenever, if you are drinking VOGA you are drinking IN Style.
* This post contains affiliate links. If you make a purchase, we may or may not receive a small commission which helps to support this site. Thank you!