Honey has always been a favorite of mine. It is great in cooking, teas, on my morning toast and sometimes I even just like to enjoy a spoonful as a sweet natural and healthy treat. I was happy to try out some neat honey sticks from a company called Natures Kick Original HoneyStix. These are made in Oregon with local honey and they are the originator of the Honey Stick.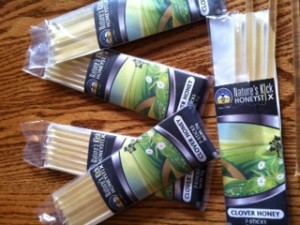 When I went to the site, I was very happy to see all of the unique flavors of honey that you could try. What a great concept! I saw Orange, Apple, Grape, Blueberry Blossom, White Sage, Sour Cherry, Caramel Agave Nectar and so many more! I was sent a few of their new 7 pack Snack Packs of Clover Honeystix to try out for you. These are pretty neat in that the honey is packaged in a straw and all you have to do its pop it open and the honey comes flowing out. What a perfect idea for traveling. Anytime I want to have some honey in my tea, I can do that. And a perfectly healthy snack for kids and adults a like.
The flavor of the Clover Honey is lovely. I shared some with my family and they enjoyed the taste too and commented on how they have seen these in local shops. I never realized that. I guessed I am behind the times.
Here are some of the flavor options that Nature's Kick has on their site for you to try. This is from their site:
Floral: This type does not have any added ingredients, and is only has subtle flavors from the flowers and plants that surround the hive.
Natural: For this type, we use only naturally occurring flavorings to enhance the flavor profile, using ingredients such as fresh mint sprigs, or cinnamon spices.
Original: These are the original 20 flavors we have sold since 1982. We add artificial flavors and colors to create an outrageous experience for your taste-buds that few edible products can equal.
Sour: Our Sour Stix are similar to Original, yet goes even further! We add plenty of extra citrus to provide all your vitamin C & 100% daily allowance of FUN!
If you are a honey lover and maybe want to find some wonderful healthy snacks for your kids, the HoneyStix are a great choice. They are available in the 7 stick packs, variety packs and even larger. Wholesale is available too. Delightful!
* This post contains affiliate links. If you make a purchase, we may or may not receive a small commission which helps to support this site. Thank you!
Disclaimer: Nadine Bye has personally reviewed the product listed above. She has not received any monetary compensation for her review but did receive a free product to try out so she could evaluate and use it for her review. Her thoughts & opinions in this review are unbiased & honest and your opinions may differ.