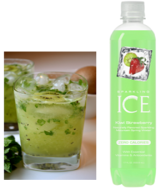 Before the summer season comes to end, add a kick to your cocktail line-up with these bold-flavored Slim and Sparkling™ Tropical Cocktail Recipes.
Light and refreshing, Sparkling ICE is Naturally-Flavored Sparkling water that contains Zero Calories, Zero Carbs, is Gluten-Free, and lightly carbonated. An excellent soda alternative, Sparkling ICE contains B-Vitamins, Vitamin D and antioxidants, along with a caffeine-free Green Tea Extract that is known to have powerful levels of antioxidants.

This full flavor beverage is available in 8 delicious flavors including Coconut Pineapple, Lemon Lime, Kiwi Strawberry, Lemonade, Orange Mango, Pomegranate Berry, Pink Grapefruit, and Black Raspberry and makes the perfect mixer for a low-calorie, end of summer cocktail.
Lemon Lime Margarita Recipe
3 oz Lemon Lime Sparkling ICE
1 oz Tequila
Splash of Triple Sec
Fresh Squeezed Lime
Directions: Shake and pour into a chilled rocks glass rimmed in salt.
* This post contains affiliate links. If you make a purchase, we may or may not receive a small commission which helps to support this site. Thank you!