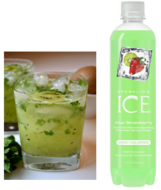 Summer is coming to a close soon but you can still enjoy some great tasting tropical flavored cocktails! This Kiwi Strawberry Mojito looks delicious! Thanks Sparkling ICE for sharing the recipe with our blog readers!
Kiwi Strawberry Mojito Recipe
1 oz light rum
½ oz Mint Liqueur
½ oz fresh lime juice
3 Mint leaves
3 oz Kiwi Strawberry Sparkling ICE
In a cocktail shaker, muddle the mint leaves with the Mint Syrup. Fill the shaker with ice, and then add the rum, lime juice and Kiwi Strawberry Sparkling ICE. Shake vigorously and pour into a chilled glass.
Disclaimer: You must be 21 years of age or older to consume alcoholic beverages in the United States. Please drink responsibly.
* This post contains affiliate links. If you make a purchase, we may or may not receive a small commission which helps to support this site. Thank you!