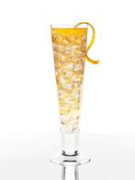 We are inching closer and closer to the Labor Day holiday weekend and this year, I am really looking forward to it! We will be attending 3 different Labor Day backyard bbq parties and I plan on having myself a very good time! Once I get through the holiday,  my end of summer vacation will be starting. Yeah, beach time baby!
With that said, I have been thinking about some yummy tasting cocktail recipes for this upcoming holiday weekend. I am thinking the Fran Shandy Cocktail would be absolutely perfect, don't you? I have never tried a hazelnut liqueur before and I think it's time I give it a try!
Fran Shandy Cocktail Recipe
1 oz. Frangelico Hazelnut Liqueur
Equal parts pale lager and citrus soda (i.e. sprite)
Twist of lemon
Served in a chilled tumbler glass.
So ladies, let's hear it for the cocktails this coming weekend! Do any of you have any favorite cocktail recipes that you would like to share with all of us? What is your favorite summertime cocktail to enjoy? We want to hear it!
Disclaimer: You must be 21 years of age or older to consume alcoholic beverages. Please drink responsibly.
* This post contains affiliate links. If you make a purchase, we may or may not receive a small commission which helps to support this site. Thank you!