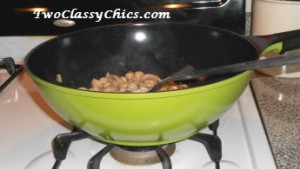 Today I would like to introduce you to the company called Ozeri who makes a high-quality line of lifestyle products for the modern home. When you shop at Ozeri you will find digital bathroom scales, digital kitchen scales, ceramic cookware, salt and pepper mills, thermo glassware, digital pedometers and so much more!
I will admit, I love products by Ozeri and this is my third review in the past couple of months that features a wonderful product by this great company. Today, I am reviewing their Green Earth Wok which I absolutely LOVE!
This Wok features their EcoZeri ultra-safe 100% PTFE and PFOA free ceramic non-stick coating. Trust me, I haven't found anything that will stick to the inside of this wok at all! There are no harmful heavy metals or chemicals used in the manufacturing of their ceramic cookware.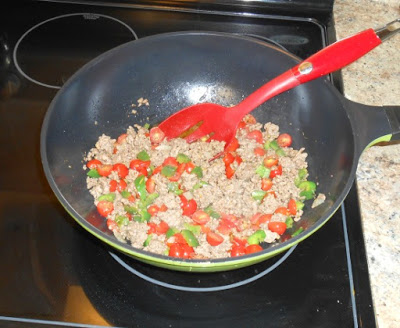 The ceramic coating is derived from nature and offers you superior non-stick performance. In addition, the non-stick surface is durable and scratch-resistant. It features oven-safe handles so it can go from stove-top to oven and back to the stove-top with absolutely no problems. If you have an induction stove, it is safe for that too!
The wok has a diameter of 12″ so it's the perfect size for family meals and it has deep slanted walls. You can really fit a lot of food inside this wok and I have easily cooked meals for 5 and 6 people at a time.
The non-stick interior coating is really slick so you need to cut down on the amount of oil that you use to season your pans. I found that I am using 75% less which is cutting down calories that we really don't need.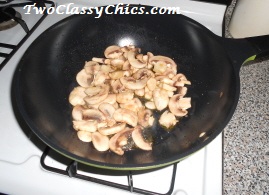 During the summer months I make a lot of homemade vegetable stir-fry's because we have a backyard garden that always gives us a great harvest. Whatever is in-season at the time…gets used in a homemade stir-fry recipe. I have used this wok with broccoli, cauliflower, mushrooms, green peppers, onion, zuchinni, squash and all kinds of other vegetables. I dump in my browned meats, fish or poultry with my choice of seasonings and within 30 minutes dinner is on the table.
I have been using this wonderful wok almost every day for the past 2 1/2 weeks and absolutely love it. Nothing sticks to it at all and it's super easy to clean. I get even browning and even cooking. The handle never heats up and it's a perfectly balanced pan with some good weight to it, without being too heavy. I love the shape, size, color, non-stick coating…well, I love EVERYTHING about this wok!
It's my favorite go-to pan in my cookware collection! I even used it a few days ago to boil some homemade pasta in it and it worked perfectly for that too! wootwoot!
You can check out the Ozeri web site to learn more about the company and their fantastic products. You can purchase the Ozeri Wok over on Amazon.com and I highly recommend that you do! It's awesome!
* This post contains affiliate links. If you make a purchase, we may or may not receive a small commission which helps to support this site. Thank you!

Disclaimer: Shelly has personally reviewed the product listed above. Shelly has not received any monetary compensation for her review. Shelly did receive a free product to try out so she could evaluate and use it for her review. Her thoughts & opinions in this review are unbiased & honest and your opinions may differ. Two Classy Chics is not responsible for delivery of any giveaway items won from this blog. We are not responsible for injury or mis-use of any products won from the Two Classy Chics Blog. Please read our Terms of Service & Disclaimer Policy before entering our giveaways. This giveaway is not affiliated with Facebook or Google+ in any way. Thanks!