My husband is a mustard fanatic. He loves mustard of all kinds and when I need to replace a bottle, I usually buy 2 because one inevitably ends up in the bedroom in case he needs it for a late night snack or something. Strange, I know… So when I got the chance to tell you about this dry mustard, I knew he would be in heaven and I was right.
I am sure that you have seen dry mustard when you are in the spice aisle. It is in the familiar yellow tin with the red writings. Colman's Dry Mustard is an English brand that is made from a unique blend of brown and white mustard seeds to create a fiery flavor sensation making it the must have condiment serving as the perfect complement to any summer dish.
Colman's mustard, which has been around since 1814, has become widely recognized as the English mustard in the world and Colman's is excited to share with you and me how to incorporate this flavorful mustard into our meals as well as summer backyard BBQ's and parties. The smoldering heat of this go-to gourmet condiment can be used in a variety of ways from being added into dressings, glazed onto meats or used as a rub; Colman's Mustard is a delicious seasoning great for grilling both vegetables and meats.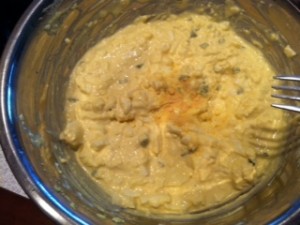 The Colman's Mustard is a superfine powder that you can use many ways. You can mix it with water and make a regular mustard to use as a condiment. You can also add it to so many different foods for extra added flavoring. Since mustard is a large part of the condiments in my home, I had no problem whipping up a few uses of the delicious dry mustard. For lunch, hubby made a nice egg salad and added the Colman's to it for a nice depth of flavor over the traditional baseball mustard. It was a nice addition!
For dinner the next day, I made some pork steaks and hubby made a rub of Garlic, Colman's, Season Salt, Onion, Pepper, Hungarian Paprika and a few shots of Red Pepper. He rubbed them down and we threw them in the refrigerator for a few hours and then grilled them later. They had a beautiful flavor and the mustard taste came through wonderfully! My only complaint is that hubby did not use enough rub. He only lightly rubbed the meat down so next time, he is doubling the amount of rub and I know it will be twice as good!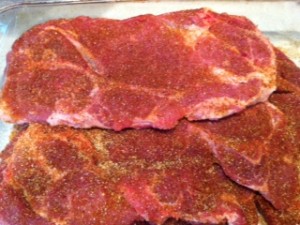 Now that grilling and BBQ season is here, that means lot of potato salads and Colman's is the perfect addition to my potato salad recipe too! It will add a nice bite of flavor that will make everyone ask for that recipe, I am sure! And it will go fantastic with this awesome Rib Eye Steak recipe Colman's is sharing with us. Check it out!
Colman's Mustard Rib Eye Steak Rub
Four 1-inch-thick rib eye steaks
1 tablespoon salt
1 teaspoon Colman's Original Dry Mustard
1 tablespoon dark brown sugar
2 tablespoons warm water
10 anchovy fillets, minced
2 teaspoons onion powder
2 teaspoons garlic powder
2 teaspoons ground ginger
2 teaspoons freshly ground pepper
1 teaspoon freshly ground white pepper
1. Season steaks with salt and let stand 10 minutes.
2. Combine Colman's Dry Mustard, brown sugar and warm water and stir until sugar is dissolved. Stir in remaining ingredients
3. Spread the paste on both sides of steaks and refrigerate for 2 hours.
4. Bring the steaks to room temperature. Grill the steaks over a moderately high heat for about 3 minutes per side, until they are nicely charred outside and medium-rare within.
* This post contains affiliate links. If you make a purchase, we may or may not receive a small commission which helps to support this site. Thank you!
Disclaimer: Please read our Official Rules before entering this giveaway. Chris personally reviewed the items listed and received no monetary compensation to do so. This represents her thoughts and opinions and yours many vary. We must receive all entries by the end date of the contest and the odds of winning are determined by the number of entries received. No purchase necessary to enter. All Content on this site is Copyright of the Two Classy Chics. All Rights Reserved