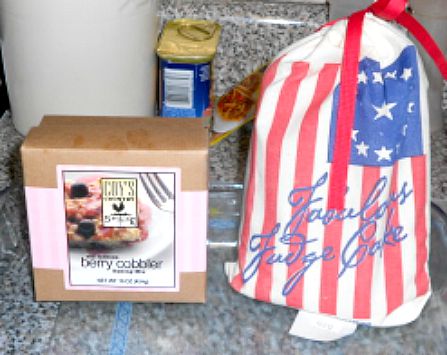 Today I would like to introduce you to the gourmet foodie company called Seattle Gourmet Foods who has been in business since 1993. The company originally got it's start out of a 10th floor candy kitchen belonging to a Seattle department store. Over the years, their name changed while growing and adding new gourmet foods to their product lineup and today, they are a trusted supplier across the gourmet food industry.
Our Review: The company sent us 2 products to review for all of you. The first product is the Coy's Country Northwest Berry Cobbler which can be made with fresh or frozen blueberries, blackberries, raspberries, mixed berries or a blueberry/peach combo. I decided to make the gourmet cobbler mix using 3 1/2 cups of fresh blueberries.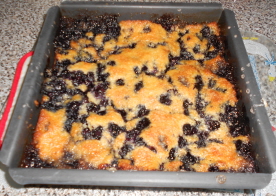 The mix comes packaged in a gift box so it's ready for gift-giving. Inside your box you will find 2 mixes, one is the cobbler batter mix and the other is a sugar mix for you to mix in with your fruit. You will need to add to their mix your own berry fruit, butter and water. It took me about 4 minutes to prepare and then it was ready for the oven. The baking time varies according to what kind of fruit you use and what size pan you bake it in. I chose an 8″ by 8″ pan and it was done baking at 35 minutes.
We left the cobbler cool down until it was barely warm and then served it to our family one evening as dessert. Some topped it with vanilla ice cream, some with whipped topping and others ate it plain. Everyone who had dessert raved and raved about it and most went back for seconds! This blueberry cobbler was super easy to prepare and tasted delicious! OH MY GOSH, we want more!!! For only $5.95, you can't beat the price and trust me…it is super good!
The second item that we got to try out was the Fabulous Fudge Cake Mix – Coys Country NW in a  18 oz. Cloth Gift Bag. I love fudge and I love chocolate cake and this baking mix is the perfect blend of both worlds! The ingredients list and recipe directions are printed on the back of your cloth bag which is really nice! This is a fabulous fudge cake with a dark semi-sweet chocolate taste to it along with a dark chocolate frosting.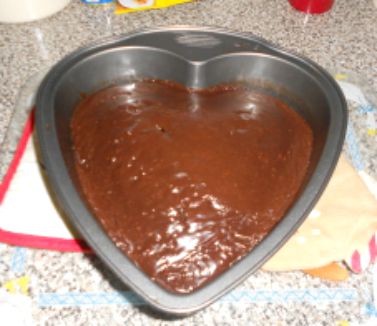 While your oven is preheating you will mix together your wet ingredients with the chocolate cake mix. Once you have it prepared you slide it into the oven to bake (about 20 to 30 minutes). During the last 5 minutes of baking time you will mix together the frosting ingredients which are included (except for the melted butter) and then remove your cake from the oven. You pour the frosting mixture on top of your hot chocolate cake and let it cool. You can serve your chocolate fudge cake warm or at room temperature, the choice is yours.
We decided to serve ours warm and had it one afternoon as our snack with a big glass of ice cold iced tea. I knew my family would love this as they love chocolate cake, chocolate fudge and this cake was the perfect marriage of both! Everyone had seconds and I was VERY LUCKY to be able to snag one piece for myself! geesh! Easy to prepare baking mix that is absolutely moist and delicious! You can buy this gourmet cake mix for only $7.25. I would definitely keep several of these on hands for when you need to bake up a cake quickly. YUMMY!
Giveaway: One lucky winner is going to win box of Coy's Country Northwest Berry Cobbler mix just like the one I got to review. You are absolutely going to LOVE it!!!!
CONTEST CLOSED

Disclaimer: Shelly Hill has personally reviewed the product listed above. Shelly has not received any monetary compensation for her review. Shelly did receive a free product to try out so she could evaluate and use it for her review. Her thoughts & opinions in this review are unbiased & honest and your opinions may differ. Two Classy Chics is not responsible for delivery of any giveaway items won from this blog. We are not responsible for injury or mis-use of any products won from the Two Classy Chics Blog. Please read our Terms of Service & Disclaimer Policy before entering our giveaways. This giveaway is not affiliated with Facebook or Google+ in any way. Thanks!