When it comes to skincare, I can honestly say I am pretty much an expert at this stage of reviewing so many different products. I have learned a ton about all of the different formulas and I also know what works well on my face and what doesn't work so well. Today I am going to tell you about a totally different product line that has a different look on anti aging skin care than any other company I have reviewed in the past two years.
Simone France, the creator of this line, believes that all skincare problems stem from how you clean your face. If you are oily or dry or have blemishes, it can all be corrected with the proper techniques. She says, "The good news is that what is self-created can be self-corrected." It is a system that is created just for you specifically; your problems directly, not just the type of skin you have.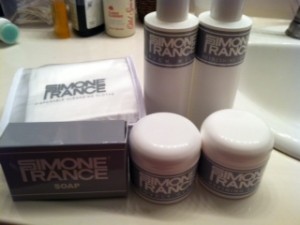 I started the review by filling out an extensive survey about what I use on my face, the problems I have, the climate I live in and so on. From there I was sent the items I need specifically for my skin along with detailed instructions on how to use it.
The core of the system is called the Sandwich. The Sandwich is the products that you use in order, in a specific way, each morning. For me, I applied the moisturizer Lovely Glow to my face. Then over that I apply the Refining Scrub. This is cool as it is not a typical scrub you are used to. This has miniscule scrubby stuff inside and it is very delicate.
I then take a bar of their Simone France bar soap, which is so awesome and lather it up and use that to wash the other items off my face. I then remove it all with their disposable cloth which I dampened with warm water and then I rinse my face with water. I then reapply the moisturizer and I am done for the day.
In the evenings it is a different process too. I am used to just wiping off my make up throwing on my moisturizer and off to bed. So I had to get used to this. First off I used the Rich Milk all over my face which I then use a disposable cloth to remove the makeup and any residual cleanser. The Toner is then used to balance your skin. I then apply the Lovely Glow moisturizer last.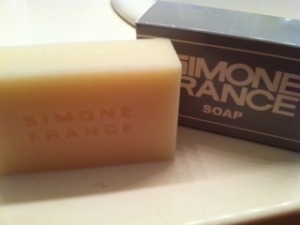 Whew! Yes, it seems overwhelming and honestly I thought it would be to much to get used to. But after just a day or two, I had the sequence down and had no problem applying it as directed. All of the products are top notch, high quality and the results are lovely. My skin felt remarkable and refreshed. Some moisturizers feel heavy and cloying, but after The Sandwich, my face and skin was beautiful and had a lovely glow! My lines were pumped out nicely and my skin is super soft. In the Mornings, my face feels so soft and creamy still. It is great!
Overall, I really love this system. The products are so rich and lovely that you only need a touch to get the results you are looking for so this will last a long time. Now that I am down with the sequence, it takes only a few minutes each day to care for my skin properly and I am thrilled with the results! I think that this may become my go to daily beauty care system! It is that good!
Swing by the Simone France site and see all of the other beautiful products for your skin, both facial and body care. Seriously, you need to put them on Your List! I think you will be amazed too!
The Giveaway:
One lucky winner is going to win a travel-size complete system just for your face! ARV $120. Here is what it includes:
2 oz. Cleansing Milk
2 oz. Toner
4.5 oz. Soap
½ oz. Refining Scrub
½ oz. Moisturizer
30 Disposable Cleansing Cloths
½ oz. Instant Radiance Exfoliating Treatment
½ oz. Treatment mask for your skin type
Detailed instructions
PLUS:
TSA Approved clear travel pouch
Designer Soap Dish
How Exciting! Here is how to enter!
CONTEST CLOSED
Disclaimer: Please read our Official Rules before entering this giveaway. Chris Carroll has personally reviewed these products. I have not received any Monetary Compensation for this review but did receive free products to use & evaluate for the review. Your thoughts & opinions may differ from me. We must receive all entries by the end date of the contest and the odds of winning are determined by the number of entries received. No purchase necessary to enter. All Content on this site is Copyright of the Two Classy Chics – Shelly Hill and Chris Carroll. All Rights Reserved