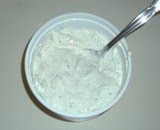 During the summertime I like to make homemade veggie dips and keep them on hand as we are harvesting fresh veggies from our backyard garden. This homemade Dill Veggie Dip recipe is one of our favorites to make. You will want to make it up ahead of time and chill it in the refrigerator for 2 hours to allow the flavors to infuse before serving it with some freshly cut veggie sticks.
Homemade Dill Veggie Dip Recipe
2/3 cup sour cream
2/3 cup reduced fat mayonnaise
1 tbsp. onion, finely minced
1 teaspoon parsley
1 teaspoon salt
1 teaspoon dill weed
1 teaspoon Worcestershire sauce
1/4 teaspoon Tabasco sauce
1 teaspoon Accent
In a small mixing bowl combine together all of the above ingredients in the order they are given in the recipe. Cover the bowl and place into the refrigerator for a few hours to chill. Serve with fresh veggie sticks.