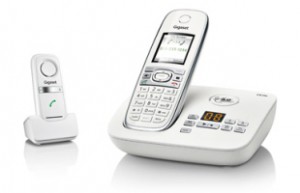 I am a work at home mom, wife and grandmother who leads a super busy life! I own and/or co-own several home businesses so I am always looking for the newest and greatest electronic products to make my personal life and business life easier.
With great pleasure today, I get to introduce you to the company called Gigaset who makes the coolest cordless phone and home answering system that I have ever seen! This company is on the cutting-edge of technology and they make super high-quality electronic products to make your home life and/or business life easier.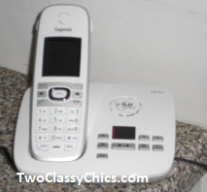 The company sent me their brand new Gigaset C610A and L410 The Flexible Family Bundle to review for all of you. I was super excited to get this product into my hands, my home and my home office to try it out for all of you.
This product is an answering machine, cordless phone, 2-way baby/security monitor, wearable hands-free device and so much more in one easy-to-use high-tech device! Check out all of these features:
The flexible family bundle
* C610A´s enhanced family features: direct call, anonymous call silencing and integrated baby phone with talk-back option
* Day/night switch mutes C610A's ringer
* Clip on the L410 and move with more flexibility while you call
* Answering machine with up to 45 minutes of recording time
* C610A's large TFT colour display
* One-click call transfer between hands-free clip and handset1 or take calls directly on clip
Answering machine features:
* LED display of new messages on base station
* Skip-back function that repeats the last seconds of messages
* Voice announcement of messages with date and time
* Remote message playback
* Operation of answering machine via handset or base station
* Hands-free talking on the L410 in perfect sound quality
This cordless phone and answering system has many more features than what is even listed above! I personally call this my new "Mac-Daddy" phone and answering system and I don't think you can get anything better than this!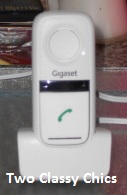 My home office is all packed up as we will be moving to our new home in a few short weeks. I currently have this phone system set up in my kitchen until we get moved. I love the answering machine functions which allow me to set up personal and business mailboxes. The display readout is large and very easy to read. The cordless phone is compact, easy to use and understand and let me tell you…the sound quality is crystal clear and amazing! I can go all over my house, in the front yard, the back yard and I have even used my cordless phone while sitting in my neighbor's house! The range and quality of this cordless phone is AMAZING!
Now…the other thing I love about this set is the wearable handsfree device which I am absolutely LOVING because I work 8 hours a day here in my home running multiple businesses. I can now comfortably talk on the phone while keying in information on the computer, completely handsfree talking! I can take personal and/or business calls all over my home, in my yard, in my driveway, doesn't matter, this handsfree device is awesome! I simply clip it to my shirt collar every morning and I keep it there until I am done working for the day. With just one simple click I can answer phone calls and conduct family or personal business on the phone handsfree! The sound quality and range of this handsfree device is AMAZING and if you ask me…it is the best I have ever heard coming through a cordless device!
As you can probably tell, I am totally IN-LOVE with my new answering and calling system! I could of used this device years ago to make my life easier! I am one happy momma, grandmother, business owner and wife today…thanks to this wonderful Gigaset Flexible Family Bundle Pack! I give it a HUGE 10 stars out of stars on my rating scale and I HIGHLY recommend it to all of you!

Disclaimer: Shelly has personally reviewed the product listed above. Shelly has not received any monetary compensation for her review. Shelly did receive a free product to try out so she could evaluate and use it for her review. Her thoughts & opinions in this review are unbiased & honest and your opinions may differ. Two Classy Chics is not responsible for delivery of any giveaway items won from this blog. We are not responsible for injury or mis-use of any products won from the Two Classy Chics Blog. Please read our Terms of Service & Disclaimer Policy before entering our giveaways. This giveaway is not affiliated with Facebook or Google+ in any way. Thanks!