Have you tried raw food? Not just fruit, veggies, or sashimi, but raw gourmet goodness or snack foods? Many raw foods are gluten-free, all natural, healthy, and good for you while taking your taste buds on a trip. Recently the good folks at Brad's Raw Foods offered a sample of raw snacks to try, so I jumped on it. I've snacked on raw crackers and chips before and saw this as a chance to try something new without taking on the prep myself. I was not expecting chips, crackers, and kale chips!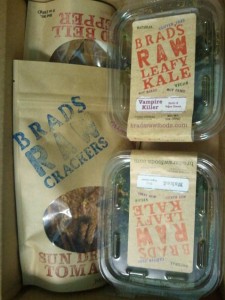 Brad Gruno started his raw diet in 2006 and started making raw chips in 2008 to help satisfy his cravings for crunchy snack. He found the right mix and now shares his healthy chips with everyone. Brad's Raw Chips are made by combining vegetables, flax seeds, buckwheat groats, and spices, and dehydrating the mix at 115 degrees Fahrenheit. Dehydrating rather than cooking the chips keeps the enzymes and nutrients in the chips at maximum levels.
To say I am a fan of snacking is an understatement, and raw snacks are high on my list of go-to goodies. I started with Brad's Raw Leafy Kale. The Naked variety is simply seasoned and addictive. This yummy snack was enjoyed by the omnivore hubby, me, and a friend of Teen A. The Vampire Killer, however, was all mine. I refused to share the garlicky goodness with anyone after having my first bite. The only reason hubs got to taste it was his speed. He got to them before I did. Each 1 ounce serving has 6 grams of protein, 3 grams of fiber, and 140 mg. of sodium – guilt-free, gluten-free, raw vegan goodness. I understand why these are the 2011 Winner of the Natural Products Expo East Most Innovative Product Award!
I dragged myself away from the Leafy Kale to try the Sun Dried Tomato Brad's Raw Cracker. Each 10 cracker serving has 4 grams of protein and 5 grams of fiber. Win! I ate them naked, with hummus, and dip. I loved them right away, but hubs liked them better with a topping. I will definitely try them again.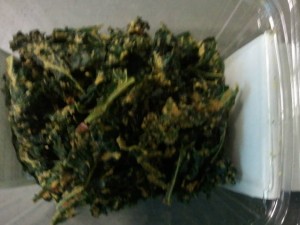 The Red Bell Pepper Raw Chips were the answer to a craving. I wanted chips and salsa and had no corn tortillas on hand. I grabbed a 14 chip serving of these babies and dipped them into salsa and guac for a yummy and filling snack that became a meal. 3 grams of protein and 5 grams of fiber partnered with a 1/2 cup of salsa and tablespoon of guac filled me up so much more than expected. I had to remind myself that these chips were raw! The flavor rivaled any chip on the market and these are not fried or baked!
Will I try Brad's Raw Foods again? Yes, and not just for me, but the hubby and teens. The versions I tried and others are available online and at several retail outlets. Next time I swing by Whole Foods Market, containers of Vampire Killer and Nasty Hot Leafy Kale will find their way into my cart. And to mix things up a bit, I'll pick up the nut-free option Natural Nacho Leafy Kale, too.
Finding vegan, gluten-free goodness that tastes good (not just good for gluten-free) is a challenge. Brad's Raw Foods exceeds all expectations. Connect with Brad on Facebook or Twitter to learn more about the products and scheduled events. If I lived in the Pipersville, PA area, I'd swing by The Chip Factory for more raw goodness, classes, yoga, and more.
Excuse me, but some leafy kale is calling my name.
* This post contains affiliate links. If you make a purchase, we may or may not receive a small commission which helps to support this site. Thank you!
Disclaimer: Sherrie T has personally reviewed the product listed above. She has not received any monetary compensation for her review but did receive a free product to try out so she could evaluate and use it for her review. Her thoughts & opinions in this review are unbiased & honest and your opinions may differ.