Warm weather down south requires a change in my makeup game plan. The formulas that worked during the cooler months will not necessarily carry me through baseball season or even for dining outside on these muggy days. Mineral makeup tends to hold up no matter the weather and gives me the coverage and wear I need. And those claims that one can sleep in it without hurting the skin are true. At least for me they are.
Cosmetic shopping is not always my cup of tea, I like to get in, pick up what I need, and get out without the temptation of filling my shopping bag with items I'm not likely to use. Yes, I fell into the green and blue perfect match lipstick trend back in the day and currently have eyeliner and mascara in colors I'll never wear again. I need to go shopping, darn it. Beauty Bridge offers an alternative to the traditional shopping trip. Based in Nutley NJ, Beauty Bridge is a cosmetics superstore featuring a selective assortment of cosmetics, skin care, fragrance, and bath and body products for men and women. Instead of running into the face of temptation offline, I can go to the webstore and pick up exactly what I need.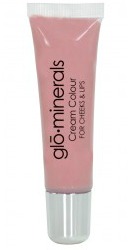 Beauty Bridge offered my choice of product and it arrived very quickly. I selected a lip and cheek mineral product from GloMinerals. The company has a selection of mineral cosmetics in colors that work with all skin tones and skin types. I tried the Cream Colour for Cheeks and Lips on a horribly hot and muggy day and was impressed. I liked the way it held up through the haze and buckets of sweat from 8:30 am until 4:15 pm baseball tournament. It gave a hint of color that enhanced my cheekbones without looking like a war paint or a bruise as the day wore on. I will keep my eye out for GloMinerals and think I'll pick up more of the Cream Colour in different shades.
Novices to mineral makeup will love the makeup tips Beauty Bride provides for various brands like GloMinerals, including tips and videos for selecting the right formulas, colors, and correct application help.
Stop by and see all of the other great brands and products that Beauty Bridge offers. It is a lovely collection of great cosmetics and skincare you will appreciate finding in one place.
Disclaimer: Sherri Thompson has personally reviewed the product listed above. She has not received any monetary compensation for her review but did receive a free product to try out so she could evaluate and use it for her review. Her thoughts & opinions in this review are unbiased & honest and your opinions may differ.