If you enjoy cooking, chances are you have a decent selection of kitchen tools in your kitchen. But as I found out, not all food preparation tools are made equal. I am thrilled to tell you about a kitchen tool company that prides itself in creating comfortable products for sore or arthritic hands and joints.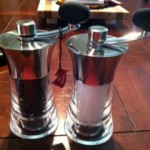 Arthritis hurts! But Trudeau Corporation makes ergonomic and lightweight Stress Less kitchen tools for your kitchen. I was so excited to be able to try several goods for your review. First up is the Awesome Salt and Pepper grinders. I love the taste of fresh cracked pepper and salt. The ease of these grinders make it simple to get that fresh flavor any time. The handles will work for either a left hand or right hand folks and the handle is soft and easy to crank. So very minimal effort is required to turn these. Inside they have a carbon steel grinder that will always stay sharp.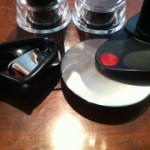 I was also sent a fabulous cheese grinder. Oh I love this one. The handles is like the salt and pepper mills and is easy to use. Again it works well for right handed or left handed folks. The side has a door that is spring loaded and opens up to hold the wedge of cheese and then you hold it vertically so the cheese falls where it is intended to go. Inside the drum is made of stainless steel and can be easily cleaned. This is a great grater. I have one a different one that is going in the trash. lol
The pizza cutter is another awesome item. This is a super sharp wheel and the handle had a grip right down by the wheel where you place your hand for stability and so your body does the work and not your hands or wrist. You have control of the wheel too and you can just cut right through your food. Nice!!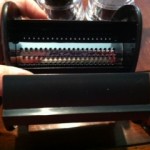 Last up is a great garlic press. I use a lot of garlic in my house when cooking so this is going to come in super handy. This press is made from metal and has a stainless steel chamber that holds the garlic clove. You place the garlic inside the chamber and then place it on your counter. There is a rubber piece on the bottom so it won't slip. You then use your body weight to crush the garlic through. Very cool.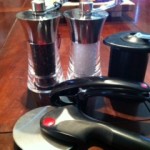 May is Arthritis Awareness month and we wanted to bring someone who is having pain and issues with arthritis the knowledge that there is a solution that can help your hands Stress Less with the awesome kitchen tools from Trudeau. They have many more products that can help you work more efficiently in your kitchen.
* This post contains affiliate links. If you make a purchase, we may or may not receive a small commission which helps to support this site. Thank you!
Disclaimer: Please read our Official Rules before entering this giveaway. Chris has personally reviewed these products. I have not received any Monetary Compensation for this review but did receive free products to use & evaluate for the review. Your thoughts & opinions may differ from me. We must receive all entries by the end date of the contest and the odds of winning are determined by the number of entries received. No purchase necessary to enter.