It doesn't matter what age you are, when there is a ball around, everyone loves to play. Warmer weather means outdoor fun and playing outside until dark, unless your kids are older and after dark is when the fun begins! When it starts to cool down, my sons friend start to gather for bonfires and good times. Even at 16 and older, they all still love playing football and goofing off. So I thought it would be a blast to find a great quality light-up football so they can play long into the night.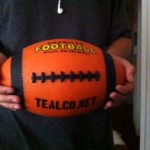 TealCo.net has a great selection of all kinds of sports balls and flying discs that light up and glow in the dark for all kinds of great games. TealCo has been playing with toys for 10 years or more on the internet and they have some cool stuff! You can find tons of great games for outdoor play for kids of all ages – and the adults too! I found their awesome LED football and their light up soccer and volleyballs. Oh and very cool Flying Disc golf (not allowed to call it Frisbee BTW) and even some great things for your favorite dog!
I was send the TealCo lighted football for review and this is very neat. It comes flat but with a pin so you can easily air it up. Now this is not a small toy football. No, This is a full regulation size ball so my son was very happy. At first he was wondering why it was an odd color, until he saw the switch to turn it on and then he was on the phone calling his friends.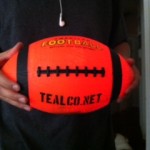 The ball is orange in color. It has a switch like I mentioned that turns on the LED light. When that is on, the whole ball glows red. Totally cool! This means you can really see the entire ball at night, not just parts of it. Also, using LED as apposed to that glow in the dark stuff, means that the LED light is run by a battery that lasts a long time. And you can change the batteries for years of play. Plus this ball is able to take any abuse you can give it. Kicking, punting, throwing – just like a normal game of football entails.
With this awesome football, summer is going to be fun around here! Swing by and check out all of the great outdoor toys and games and other fun items the folks at TealCo.net have for you. You and your kids will have a blast!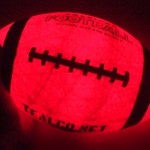 The Giveaway:
We are happy to tell you that one lucky winner is going to win a Light Up Football too! ARV $30 YAY here is how to enter!
CONTEST CLOSED
Disclaimer: Please read our Official Rules before entering this giveaway. Chris Carroll has personally reviewed these products. I have not received any Monetary Compensation for this review but did receive free products to use & evaluate for the review. Your thoughts & opinions may differ from me. We must receive all entries by the end date of the contest and the odds of winning are determined by the number of entries received. No purchase necessary to enter. All Content on this site is Copyright of the Two Classy Chics – Shelly Hill and Chris Carroll. All Rights Reserved