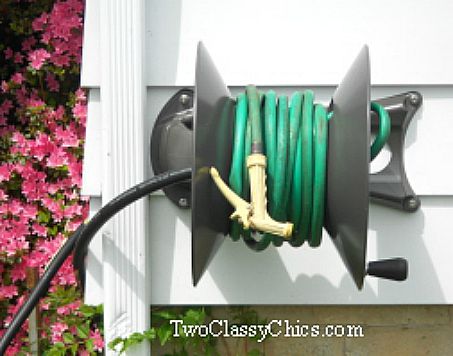 Today I would like to introduce you to the company called the Eley Corporation who are the fine makers of the hot-selling Rapid Reel Hose Reels.  In addition to selling garden hose reels, they also sell garden hoses, accessories and replacement parts.
For the past few months I have been blogging about all of the home improvement projects that we have been making to a home that we purchased 2 years ago. The home is 65 years old and the previous owners did very little to update it over the years, so it needs a lot of work!
One of the things we needed for our new home was a new garden hose reel and the great folks over at Eley Corporation sent us their 1041-GH Wall Mount Garden Hose Reel to review for all of you! What a great product to feature during our Fun in the Summer Sun Event! This product sells for $154.49 (flat-rate shipping included) and my hubby said it is worth every dime.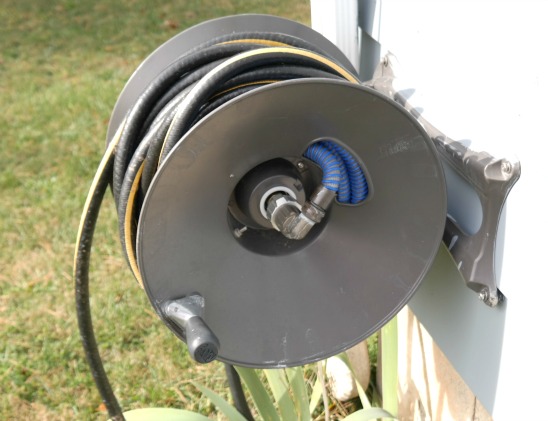 The Wall Mount Garden Hose Reel comes with a 10 year warranty so you know it's a quality-made product! The 10-year warranty is a no-leak, no-rust, no-break factory warranty. It is one model but comes in 2 different configurations which is really cool.
It is made from ultra-durable alloy aluminum and mounts quickly and easily to any wall you want to mount it on. It comes with screws and concrete lags for mounting.  Hubby chose to mount it on the backside of our house. From start to finish, it took hubby only 30 minutes to assemble it and to mount it onto our house.
The Garden Hose Reel will hold 150 feet of 5/8″ hose and if you need it to hold more, you can purchase their extra-capacity kit. The garden hose reel does come with a 5 ft. supply hose that hooks up to your outdoor faucet and runs to the garden hose reel.
Everything that came in this Wall Mount Garden Hose Reel Kit was heavy-duty and you could immediately tell that this was a quality piece that will last for many, many years!
My husband is absolutely in love with his new toy! He has been using it almost daily for when he waters the yard, waters the garden, sprays down our aluminum siding, sprays down our patio deck, etc. He could not be happier with his new garden hose reel and rates it 10 stars out of 10 stars! He highly recommends this company and their products to all of you!
* This post contains affiliate links. If you make a purchase, we may or may not receive a small commission which helps to support this site. Thank you!

Disclaimer: Shelly has personally reviewed the product listed above. Shelly has not received any monetary compensation for her review. Shelly did receive a free product to try out so she could evaluate and use it for her review. Her thoughts & opinions in this review are unbiased & honest and your opinions may differ. Please read our Terms of Service & Disclaimer Policy before entering our giveaways. Thanks!