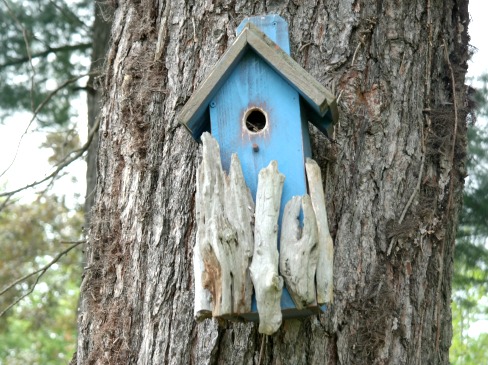 With our "Fun in the Summer Sun" blog event getting into full swing, our next company makes the perfect addition to our summer buying guide. Today I would like to introduce you to the company called Michele's Handcrafted Birdhouses where you will find the prettiest handcrafted birdhouses that I have ever seen! All of Michele's birdhouses are handmade by her here in the good old U.S.A. and I absolutely love to support American Artisans like Michele!
All of her birdhouses are made from cedar material to accommodate a variety of cavity nesting birds. They have lifting clean-out doors that are embellished by classic knobs or a piece of genuine driftwood which is used as the handle. The bottom floor of the birdhouse has drainage holes to keep the bird nests dry should any rain water get into the birdhouse. There are ventilation ducts that are just under the roof eaves.
My Review: I was really excited to be reviewing a handcrafted birdhouse made by Michele as I have always loved birds and been birdwatching for the past few years. We have a variety of birds here in our backyard like blue jays, cardinals, Downy woodpeckers, robins, house finches, sparrows and wrens. I just love watching them feed at our bird feeders and I used to have a birdhouse until Hurricane Irene swiped it last year.
Michele sent me the Rustic Birdhouse with Country Charm  to review for all of you. I love that it is very rustic looking which fits in perfectly with our garden and landscaping decor. The birdhouse is quite large and very sturdy, hubby said extremely well-built! We decided to hang up our new birdhouse directly onto one of our rustic fences that surrounds our one patio/deck area. It only took hubby about 1 minute to get it hung up and I think it looks beautiful hanging onto our rustic wooden fence.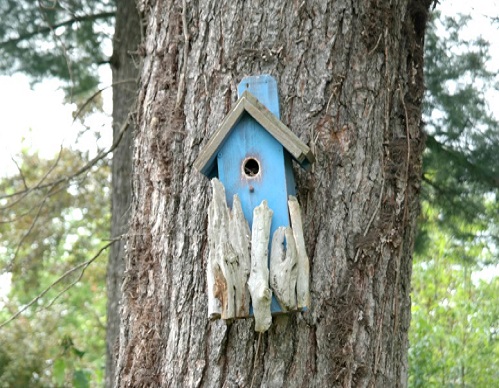 I love that with this birdhouse that I can easily clean it out once the birds are done nesting in it thanks to the way this birdhouse artist built it. I also appreciate that there are venting holes for ventilation and there are draining holes in the bottom.
Michele added several pieces of driftwood onto the exterior of the birdhouse which is perfect for decoration but it also serves as perching opportunities for the birds. Besides that, I have various other pieces of driftwood around my yard due to my coastal theme'd landscaping. The picture above and to the right shows the side view of this beautiful birdhouse so you can really see the depth of the piece.
Michele did a beautiful job making this birdhouse and I am super proud to now own a birdhouse from Michele's Rustic Birdhouses & Home Accents! This is one quality-made handcrafted birdhouse that you would love to have for your own backyard or purchase a few and give them as gifts!
I have been watching my new birdhouse like crazy the past several days and I am just waiting for a bird to find my new birdhouse and to call it home! We have had some really terrible rainy weather here on the east coast for the past week, hopefully when we dry up, I will have a tenant in my new beautiful birdhouse!
When I catch my new tenant setting up house in my new birdhouse, I will try to get some photos and make a new blog post here on our blog to share the excitement with all of you!
If you are in the market for a beautiful handcrafted birdhouse, I would HIGHLY recommend that you check out Michele's Handcrafted Birdhouses! They are beautiful, extremely well-made and super affordable! They come well-packaged and are shipped quickly to your front door! We give this company 10 stars out of 10 stars on our rating scale!
Thank you Michele for sending me the beautiful birdhouse to review for all of our readers. You can follow Birdhouses by Michele on Facebook, Unique Birdhouses on Twitter and you can check out her Etsy Shop called Birdhouses by Michele. We would also like to invite you to check out her wonderful blog called The Birdhouse Builder.

Disclaimer: Shelly has personally reviewed the product listed above. Shelly has not received any monetary compensation for her review. Shelly did receive a free product to try out so she could evaluate and use it for her review. Her thoughts & opinions in this review are unbiased & honest and your opinions may differ.  Please read our Terms of Service & Disclaimer Policy before entering our giveaways. This giveaway is not affiliated with Facebook or Google+ in any way. Thanks!