I love to have BBQ's at the house and since I do most of the cooking and I am the best at grilling, I have a great grill that has propane, charcoal and a smoker all in one. In the summer when it is so hot, I hate heating up the house, so our BBQ gets a huge workout. We cook a variety of meats and veggies and one of the best ways we enjoy that is by making Kabobs. I got to try out some very cool grilling skewers that you are going to love!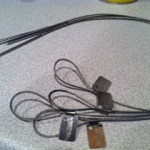 Fire Wire® are Stainless Steel Flexible Grilling Skewers that are 27 inches long! That is twice as long as a traditional skewer. They are dishwasher safe, a breeze to use and they come with a lifetime guarantee.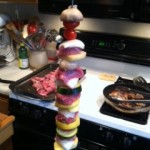 This is such a cool item to use. You only have to touch the food one time. We prepared our veggies and meats and loaded up the Fire Wire's. Then I took the Peppered Garlic and Herb Fire Wire® Marinating Kit that comes with the seasoning packet and the heavy duty zip bag and I prepared that simply by adding in some olive oil and a splash of Balsamic in the bag. I took the loaded up Fire Wire's and placed all 4 loaded with food into the bag to marinate.
It was super simple and the wires bend and curl so you can fit everything into the bag or a bowl if you want to marinade prior to cooking. After we marinaded for 20-30 minutes, we threw them on the fire and cooked those babies up. You can leave the tip of the skewer hanging off of the grill and can rotate, twist or turn your food that way. No tools or utensils are required and the Tip stays cool. That is neat!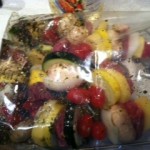 We really enjoyed the marinade. It was delicious and the skewers worked like a dream. So easy to use and they hold a ton of food and none of it fell off like with traditional skewers! I love these Fire Wires. The concept is awesome!
Fire Wire® is located in many large retailers and they offer a few other products too. These products are definitely unique as they have won many awards. You need to go check these out. They are perfect for Summer grilling, Mother's Day and Father's Day gifts, you name it! My brother in law and mother in law are already asking where they can get these too! What a great product.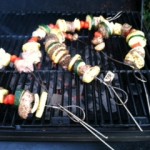 The Giveaway:
We are excited to tell you that One lucky winner is going to win 2 sets of Fire Wire® and 2 marinating kits for your next BBQ! Enjoy!! Here is how to enter!
CONTEST CLOSED
Disclaimer: Please read our Official Rules before entering this giveaway. Chris Carroll has personally reviewed these products. I have not received any Monetary Compensation for this review but did receive free products to use & evaluate for the review. Your thoughts & opinions may differ from me. We must receive all entries by the end date of the contest and the odds of winning are determined by the number of entries received. No purchase necessary to enter. All Content on this site is Copyright of the Two Classy Chics – Shelly Hill and Chris Carroll. All Rights Reserved