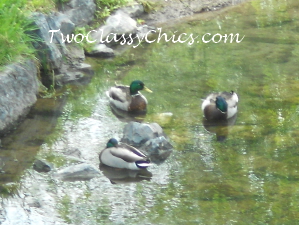 If you recall, last month I posted about a new female Mallard duck that is calling our property home. At the time she had a few male companions with her but a few days later they took off, but she hung around.
Well, she made a huge nest near the bank of our one stream so I have been waiting for babies to arrive…so far, none! Then earlier this morning when I went out for a walk with my mom…we found her again and this time around…she has 3 male companions vying for her attention!
You can't see her (we named her Ding) in the photo but you can certainly see her 3 boyfriends. They are really being protective of her so I am wondering if one of them are going to mate with her. I hope so as I want to have some baby ducklings!
Last year she had 7 baby ducklings and they were totally adorable! I hope this year we get more babies!
Do any of you enjoy watching and/or feeding ducks? Do you have any on your property? If I catch some hatchlings I will be sure to get photos and blog about it!

2 Responses to "Ding the Duck has 3 Male Companions Now!"