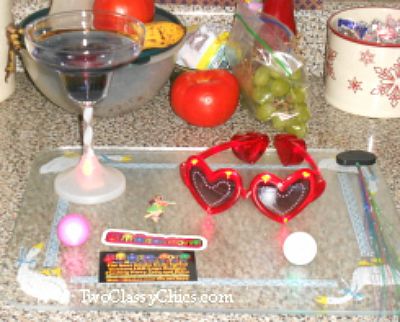 Are you planning a fun summer party this year? Family gathering or some other kind of evening or nighttime event? If so, you have got to check out all of the fun blinkee accessories that Blinkee has to offer!
When you shop at Blinkee you will find all kinds of flashy blinkys like flashing margarita glasses, electronic mood rings, blinking refrigerator magnets, LED gloves, body lights, blinkee sunglasses, optic hair lights, lighted barware, fiber optic caps, flashing jewelry and all kinds of other things that have blinky lights or flashing lights in them or on them! This site is HUGE with thousands upon thousands of cool, fun products!
The great folks over at Blinkee sent us several things to review for all of you for our big "Fun in the Summer Sun" blog event. First up is the Huge Electronic Mood Ring that my grand-wee-one quickly snatched from me. The mood ring is made of plastic and measures 1 1/4″ in diameter. To get it to light up, you simply press the little button underneath and it goes to town! It will go from red, purple, green, orange, yellow to blue. It is super cool and the wee one just loves it!
We also received the Huge Blink and Glow Pink LED Ring which the wee-one also snatched from me as soon as it arrived. It measures 1 1/4″ in diameter and there is a little button underneath the ring that you press to turn it on. It will flash or you can set it to just glow, your choice! Just like the first ring, wee-one loves it!
The Hula Girl Body Lights is a super cool piece just for me! You can wear this on your body or pin it to your clothing. It has a 2-part magnetic disk so you can attach it to your shirt, jacket, hat or even your purse without puncturing any holes into your garments. You turn the little disk on the back which turns it on and the hula girl has multiple flashing colored lights. I have her on my tote bag. You can also use her as a refrigerator magnet too!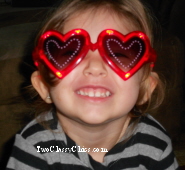 Grand-wee-ones next favorite item that we received is this pair of very cool Heart LED Sunglasses which are perfect for girls and/or boys. They are not made to protect your eyes, these sunglasses are made for fun! They come with the batteries included and you turn them on via a tiny switch near the ear piece. There are 3 settings, quick blinking of lights, a slower blinking of lights and then a steady light. The wee one LOVES wearing these indoors and outdoors in the evening. She thinks she is "HOT STUFF" strutting around in her new blinking sunglasses!
We also got some Glowbys Fiber Optic Hair Lights that are super cool. I think they would be awesome to wear in your hair to go to a music concert, evening sporting event or to go out clubbing! They click in your hair just like a normal barrette would and is super comfy to wear. My adult DD wore one out to a club last weekend and loved it!
Finally, we received the LED Margarita Drinking Glass which is ultra cool! This is great for outdoor summer entertaining in the evening for sure! This drinking glass has a little switch on the bottom of it. You can set it to show only one color continuously or set it to show flashing colors. Lots of different options with that! It is made of a clear acrylic material so you can use it indoors or outdoors by the pool. Way cool! You can see one of these in my top center photo.
All of these products are super fun and perfect for summer! Not only that, they are all affordable! Now is the time to stock up so you are ready for all of your summer parties and events! yeah! I also think these type of things would be PERFECT for little kid's birthday parties too!

Disclaimer: Shelly has personally reviewed the product listed above. Shelly has not received any monetary compensation for her review. Shelly did receive a free product to try out so she could evaluate and use it for her review. Her thoughts & opinions in this review are unbiased & honest and your opinions may differ. Two Classy Chics is not responsible for delivery of any giveaway items won from this blog. We are not responsible for injury or mis-use of any products won from the Two Classy Chics Blog. Please read our Terms of Service & Disclaimer Policy before entering our giveaways. This giveaway is not affiliated with Facebook or Google+ in any way. Thanks!