I love to cook and my hubby is getting more and more involved with the cooking to help me out. I am a pretty traditional cook with flavors and seasonings I learned from my German mom and then my own twists on dishes that we love to eat. Hubby was raised in the south and loves southern cooking and grilling, so between us we have a pretty large menu of different types of foods we like. One thing we do have in common is that we love natural seasonings on our food.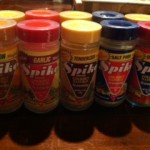 I was excited to be able to check out all of the different natural gourmet seasonings Spike Magic had to offer. I had heard of them before, but have never tried them. I was sent one of each of the flavors to try and we had some fun here at my house! They make the following Flavors:
Spike Original Magic
Spike Salt Free Magic
Spike Hot N Spicy Magic
Spike Lemon Pepper Magic
Spike Veg-it magic
Spike Garlic Magic
Spike Onion Magic
Spike Vege-Sal Magic
Spike Tenderizer Magic
Spike 5 Herb Magic
Can you even imagine? What I like about this array of products is that many of them are salt free or Low Sodium. I have no qualms being a bit heavy handed with herbs and seasonings that will flavor the food and not cover up the taste of food. These are great in that aspect. Also what is nice to know if that Dr. Oz listed Spike Seasoning Magics! as an alternative to table salt. They were featured on his show a few weeks ago and lists the products as a great resource to help fight bloating and belly bulge. Check it out on Dr. Oz.com and Spike Seasoning. Nice!
Over the past few weeks we have been able to use almost all of the awesome seasonings in different ways. The onion and garlic are staples in my kitchen so these were incorporated immediately. Nice flavor on both. Not over powering, but pure. One of the things we made with these was some dinner rolls and we finished off the tops with a touch of Parmesan and a shake of garlic and onion. Delicious!
My hubby loves avocados and he loves eating them on the side as a salad. He really enjoyed the Original Magic on this as well as the Vege-Sal. He said it totally brought out the flavor of the fruit more than normal. Lemon Pepper is a favorite on chicken and we loved the Hot N Spicy magic in our Taco meat for an additional kick.
Sunday nights at our home is family dinner with friends that join us on a weekly basis. This week we made Chicken Parmesan with butter and garlic spaghetti and Spike Seasonings had a great time enhancing our dinner that night. The 5 Herb and the garlic was in the house and it was as good as any Italian restaurants meal. It rocked! We had left overs the next day for lunch, which is the photo here. I made a quick tomato sauce with the 5 Herb and Garlic and pan fried the left over spaghetti. Oh this was awesome too!
My hubby and I both enjoyed playing with food the past few weeks! We really enjoyed the Spike Seasonings and intend to keep many of them in the house at all times. They really are a delicious flavor enhancer and the price is awesome too!
The Giveaway:
One lucky winner is going to win 4 bottles of Natural Gourmet Spike Seasoning Magic. The flavors are:
1. Original
2. Hot 'n Spicy
3. Salt Free
4. Vegit
Enjoy! Here is how to enter!
CONTEST CLOSED
Disclaimer: Please read our Official Rules before entering this giveaway. Chris Carroll has personally reviewed these products. I have not received any Monetary Compensation for this review but did receive free products to use & evaluate for the review. Your thoughts & opinions may differ from me. We must receive all entries by the end date of the contest and the odds of winning are determined by the number of entries received. No purchase necessary to enter. All Content on this site is Copyright of the Two Classy Chics – Shelly Hill and Chris Carroll. All Rights Reserved