Today I would like to introduce you to the company called ManPans who sells a high-quality line of cookware and bakeware. All of the products you find at ManPans were made in the good old U.S.A. In addition, their cookware and bakeware products come with a lifetime warranty and are eco-friendly.
When you shop at ManPans you will find a wide variety of sauce pans, fry pans, stir fry woks, saute pans, steamer inserts, pizza pans, cake pans, pie pans, loaf pans and more!
The great folks over at ManPans sent me their 9″ by 9″ by 2″ deep Square Cake Pan to review for all of you. This cake pan is made out of commercial quality 16 gauge aluminum with welded seam construction. It has a round rim, straight sides and an easy-to-grip lip rim. It is heat safe up to 700 degrees Fahrenheit.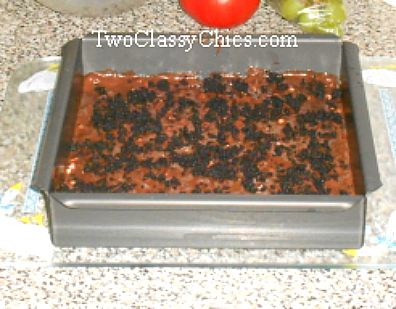 Instead of making a cake, I decided to make a box of Mississippi Mud Brownies in the square cake pan that they sent to me. I didn't use any grease in the pan as this pan is stick-resistant and has an excellent release. I mixed up my brownie batter and poured it directly into the cake pan. I then placed it into the oven and baked them for 32 minutes. Once done, I removed the pan from the oven and left it cool. I cut them into individual squares and then lifted them out of the cake pan.
I was pleasantly surprised to see that I have extremely even baking with no burnt bottoms or burnt edges. My brownies did NOT stick to the bottom or to the sides of the cake pan at all. Once I had them all out of the pan I gave it a gentle quick wash in the sink, towel dried it and it's ready to go for the next time that I need it.
This cake pan from ManPans is absolutely fantastic! Since it's arrival I have used it many times and everything I bake in it comes out beautifully. I give this cake pan a huge two thumbs up!
* This post contains affiliate links. If you make a purchase, we may or may not receive a small commission which helps to support this site. Thank you!

Disclaimer: Shelly has personally reviewed the product listed above. Shelly has not received any monetary compensation for her review. Shelly did receive a free product to try out so she could evaluate and use it for her review. Her thoughts & opinions in this review are unbiased & honest and your opinions may differ. Please read our Terms of Service & Disclaimer Policy before entering our giveaways. This giveaway is not affiliated with Google+ or Facebook in any way. Thanks!