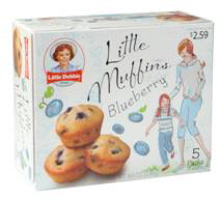 Now that things are heating up, I don't want to be turning on my oven to do any baking unless I absolutely have to. Furthermore, during the spring and summer months, I am usually way too busy to spend hours in the kitchen baking food and snacks for my family. During these 2 seasons of the year, I look for great tasting alternatives and that is where Little Debbie snacks come in to the rescue!
Little Debbie Snacks are perfect this time of year and make a great snack that the entire family can enjoy. You can use these snacks for when you pack lunches for work or school, or pack them when taking road trips this summer.
Today I am reviewing 2 new products from Little Debbie and they are the new Little Debbie Little Muffins! For the review we received a box of the Little Debbie Blueberry Little Muffins and a box of the Little Debbie Chocolate Chip Little Muffins to try out for all of you.
Each box of Little Debbie Little Muffins contains 5 packs and each pack has 4 little muffins inside it. I love that these are the perfectly sized grab-and-go packs! The MSRP is $2.59 so they are super affordable, especially when they are on sale or you get a coupon!
One morning I was running late and didn't have time to cook us breakfast. Instead my husband and I grabbed some orange juice and a Little Debbie Little Muffins Blueberry pack. We had exactly 7 minutes until we had to be out the door and these blueberry little muffins were perfect for us. They tasted super fresh and totally delicious!  Within 2 days, we demolished that entire box!
Later on that week we opened up the Little Debbie Chocolate Chip Little Muffins and tried those out. My grand-wee-one was here at the time and she decided to try out a pack too. They are the perfect sized little muffins for little toddler hands! She can not master holding onto a full-size bakery muffin, so they are perfectly sized for kids. Just like the blueberry little muffins, they tasted moist, fresh and delicious!
If you have not tried the new Little Debbie Little Muffins, you really should! They taste fantastic and I love that they are individually packaged in the perfectly sized grab-and-go packs! You can find them at various retailers across the nation so look for them the next time you are at your local store.
* This post contains affiliate links. If you make a purchase, we may or may not receive a small commission which helps to support this site. Thank you!

Disclaimer: Shelly has personally reviewed the product listed above. Shelly has not received any monetary compensation for her review. Shelly did receive a free product to try out so she could evaluate and use it for her review. Her thoughts & opinions in this review are unbiased & honest and your opinions may differ. Two Classy Chics is not responsible for delivery of any giveaway items won from this blog. We are not responsible for injury or mis-use of any products won from the Two Classy Chics Blog. Please read our Terms of Service & Disclaimer Policy before entering our giveaways. This giveaway is not affiliated with Google+ or Facebook in any way. Thanks!