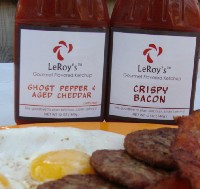 Today, I would like to introduce you to LeRoy's Gourmet Flavored Ketchup. LeRoy's Ketchup, headquartered in Milwaukee, WI, is a division of MMGroup, a company specializing in branding and product development. After an extensive local survey about condiments, mass production or gourmet, they noticed one constant comment "when will there be flavored ketchup?", and out of that LeRoy's gourmet flavored ketchup was born.
My Review: The generous folks at LeRoy's sent me some of their gourmet ketchup to review for all of you. We are big ketchup users in our family, actually our whole extended family is as well. Therefore I was able to get a number of people's reactions to each of the flavors.
Crispy Bacon – I am of the school of thinking that everything tastes better with bacon, and was so anxious to try this flavor the most. Apparently so was the rest of my family, because it was the first one we reached for, and now it's almost gone! The bacon flavor is not over-powering, but it is there, and SO good!
I put the LeRoy's Crispy Bacon Ketchup on a turkey sandwich at Easter – delicious! (Though I'm mad I forgot to bring my camera!) All four of us love it with scrambled eggs, and hubby dips his breakfast Hot Pockets in it when he's done a breakfast-dinner after shift. This is my husband's new favorite! The other night, my oldest asked for it on his hotdog, which he likes to eat on a hamburger bun. 😉 (Pictured to the right)
Ghost Pepper & Aged Cheddar – LeRoy's describes it as "Aged white cheddar with a lot of heat from the ghost pepper is as unique as it gets for ketchup!" and I whole-heartedly agree! It's as unique as it is versatile. All of the men in our family are heat seekers – the spicier the better!
When I brought LeRoy's Ghost Pepper & Aged Cheddar flavored ketchup to Easter dinner, I watched as each the guys put some on their plate with the turkey and ham. My brother-in-law is from New Orleans cajun country, and it was hot enough for him. My husband, and foodie sister-in-law both commented about how despite the heat, the flavor of the aged white cheddar cheese came through. My oldest dipped potato chips in it and proclaimed, "flaming hot potato chips!" My husband has had it on scrambled eggs, and says he's looking forward to having it with steak. I have a sloppy joe recipe that this would be great in for our next family party in May!
At LeRoy's, each of their gourmet flavored ketchups, are handmade in small batches, and packaged in 12 oz. easy-squeeze, open mouth plastic bottles. Plus, there's a whole year on the expiration date! LeRoy's Gourmet Ketchup makes for a very flavorful option when watching your weight! All of their flavors are 26 calories or less, and all flavors are under 6.3g carbs! Weight Watchers has even officially assigned a PointsPlus value to LeRoy's Gourmet Flavored Ketchup. 2 Tablespoons = 1 Point!
If you would like to purchase the LeRoy's brand gourmet flavored ketchups, and there is not a specialty store within close proximity of your home, please contact LeRoy's directly and their customer service department will ensure your favorite flavors are shipped directly to your door.
Giveaway: One lucky winner is going to win 3 bottles (your choice of flavors) of LeRoy's Gourmet Flavored Ketchup.
CONTEST CLOSED
Thank you to LeRoy's for sending me some of their gourmet ketchup flavors to review for all of you. My ketchup loving family devoured these first two, and we look forward to putting the other two to good use, and reviewing them as well next month!

Disclaimer: Lauren Haugh has personally reviewed the product listed above. She has not received any monetary compensation for her review. Lauren did receive a free product to try out so she could evaluate and use it for her review. Her thoughts & opinions in this review are unbiased & honest and your opinions may differ. Two Classy Chics is not responsible for delivery of any giveaway items won from this blog. We are not responsible for injury or mis-use of any products won from the Two Classy Chics Blog. Please read our Terms of Service & Disclaimer Policy before entering our giveaways. Thanks!