I think my house is just as typical as any other… we all have a love for electronics. Laptops, bluetooths and Iphones are a typical possession and we are not far from our electronics at any given time. I even have an inverter for the car so we can charge any thing at any time. But I don't know how many times we have been on a trip and someone or another (usually the guys lol) has forgotten their charging plug. Now I am thrilled to share with you the answer to that lovely dilemma! A pocket sized solar charger that will work anywhere there is sun. Too Cool!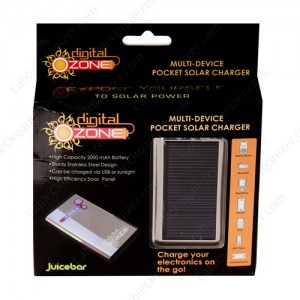 Made by Juicebar and sponsored by Cableorganizer, this compact charger is a great item to have. It is as big as a cell phone and very lightweight. On one side is the solar cell and the other is a shiny mirror surface. This is so neat and easy to use, it is sweet!
It comes with a protective pouch, connector cable, a USB charging cable and 4 different attachment head connectors; one for different types of products. And that is it. My box was missing the USB charging cable so that is a bummer.
The Juicebar solar charger is about the size of a phone and it is super easy to use. You can use it to charge Iphones, Blackberry's , Kindles, tomtom, PSP's and hundreds of handheld devices. Simply use one of the connectors that fits your device and either charge it in the sun or you can connect it to a PC and charge it that way. That's it. You can also use your own charging cable that came with your product and plug it into the unit and charge it that way too. Very smart!
This is a great tool for my family because we do go on trips often and it will be great to charge the phone if needed. Camping trips, hiking, backpacking trips; will be great knowing that you can get a charge to your phone in case of emergencies even in the wilderness. With all of the weather disasters happening right now, this is a great item to have on hand too! A cell phone would be a critical item to keep charged at all times. What a life saver this Juicebar Solar Charger can be.
I love that this is small and compact and I know that my son is going to be able to take this with him when he goes to a friends for the weekend so he then has no excuse to having his phone die. LOL Sneaky mom will just throw it in his backpack without telling him!
If you have a family that runs on electronics, you have to check this out! You can buy the Juicebar solar charger at Cableorganizer as well as a bunch of other neat organizing items for your home or office. Some I really need to get for sure!
Disclaimer: Chris Carroll has personally reviewed the product listed above. She has not received any monetary compensation for her review but did receive a free product to try out so she could evaluate and use it for her review. Her thoughts & opinions in this review are unbiased & honest and your opinions may differ.