I have used nail files all of my life, just like you have but one thing I have never tried is glass nail files. I have heard of them but had never seen one before so I was in for a nice surprise with the products I received from a company that is one of the world's largest suppliers of glass nail files.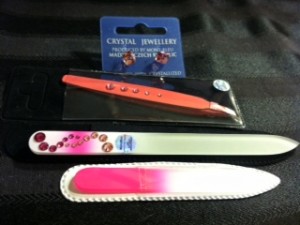 Mont Bleu Ltd Company produces glass nail files that are made of high quality Czech glass. These glass nail files are decorated by lovely colors and patterns or by adding beautiful Swarovski crystals. They are one of the main producers of beauty accessories decorated with original Swarovski crystals in Europe and now expanding more into the USA.
Monte Blue has loads of other beauty and accessories for ladies on their site and many of them are also beautified by crystals. They are a great place to check out when you want to buy glass nail files and any other of your beauty accessories like brushes, manicure sets, cosmetic brushes and more. They even sell wholesale if you are interested in selling glass nail files or want your local store to carry them for you.
I received 2 different style files to review for you as well as a darling pair of tweezers and a pair of glass earrings. So CUTE!. These glass files are 2 different sizes; one smaller one for your purse or traveling and the other is a larger one that you can use at home; each with a protective sleeve. Since I had never used a glass file before I was thrilled to check them out!
I am actually pretty amazed at how well they work. I really had no idea how they would perform but I love this. They are so smooth and made my nails look so nice. The small one has the colored top and the medium size that the beautiful crystal adornment. These files are nice and smooth and beautiful to boot. I love the darling crystals that make them nice and feminine. Sometimes we need that! Ohh and they have foot files too. I bet those would rock!
I really like that they do not wear like a regular cheapie nail file. These are washable and keep working and working and working. I can see now why people love them. Definitely worth the money since you will not be replacing them very often. Very cool!
The Tweezers were a great addition too! The tip is nice and sharp and they are a good quality tweezer that will work nicely. I love the extra crystal on this too. So sweet! Now maybe these will remain in my beauty drawer instead of my Hubby stealing them all the time. I don't think he will use anything with Swarovski Crystals attached. HAHA
Stop by their site to see all of the lovely goodies that they carry. I think you will enjoy it and I know you will love these files!
The Giveaway:
One Happy winner is going to win an e-card to purchase a crystallized medium nail file and a small colored nail file and get free shipping too. Of course the winner can use the gift card for anything you choose if you want something different. cool!! here is how you can enter to win!
CONTEST CLOSED
Disclaimer: Please read our Official Rules before entering this giveaway. Chris Carroll has personally reviewed these products. I have not received any Monetary Compensation for this review but did receive free products to use & evaluate for the review. Your thoughts & opinions may differ from me. We must receive all entries by the end date of the contest and the odds of winning are determined by the number of entries received. No purchase necessary to enter. All Content on this site is Copyright of the Two Classy Chics – Shelly Hill and Chris Carroll. All Rights Reserved