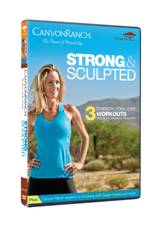 After recently partnering with the #1 diet and fitness website, SparkPeople, Acacia is excited to produce the first DVD from the leader in healthy living, Canyon Ranch. Canyon Ranch: Strong & Sculpted, takes healthy living to a new level with three transformative total-body workouts (core, strength training, and yoga), plus three bonus segments with their top health experts and a recipe booklet from their renowned chefs.
Now you can bring the Canyon Ranch experience home with these three 20-minute workouts for total-body transformation designed to work together to firm, tone and invigorate your entire body. The workouts include a dynamic strength-training segment to build strong bones and long, lean muscle; a fluid, easy-to-follow yoga flow for more body sculpting and to improve balance and flexibility; and a powerful core segment to work the muscles of the abs and hips that are key to a powerful, smoothly functioning physique.
The workout options include:
* Core (20 minutes, plus 5 minute cool down) with Canyon Ranch fitness instructor Darcy McCue.
* Strength Training (20 minutes, plus 9 minute cool down) with Canyon Ranch fitness instructor Heather Schmidt.
* Yoga (20 minutes, plus 5 minute savasana) with Heather Schmidt.
Bonus Features include:
* Cooking with Super Foods: How to select & prepare foods that reduce inflammation with Canyon Ranch's nutrition director and corporate chef (7 minutes).
* Building Lean Muscle: What you need to know about muscle and how to build muscle through exercise with exercise physiologist (3 minutes).
* Healthy Joints: How to protect and strengthen your joints during exercise and in everyday life with integrative medicine expert (4 minutes).
* Also included is a bonus booklet with recipes from the renowned chefs of Canyon Ranch.
The DVD is available for purchase starting on May 1st, 2012 for the suggested retail price of $16.99. Approximate running length is 79 minutes, plus bonus.
My Review: Right now I am fighting some kidney stones so I wasn't able to complete all 3 of the workouts on the DVD, but did manage to do most of the Yoga workout which I absolutely loved! Once I am healed up, I plan on trying the other 2 workouts on the DVD. I did sit and watch all of the bonus features and went through the recipe booklet and I love those too. I really learned a lot by watching the bonus episodes on how to cook with super foods, how to build lean muscle while working out and how to keep my joints healthy. This is a GREAT DVD for both beginners and for those who avidly workout.
If you are looking for a new effective workout program that works your body out to it's fullest potential and helps to educate you along the way, this is a great DVD for you to add to your workout video collection. I am really looking forward to getting into this DVD even more once I come off my current medical restrictions! It's fabulous!!!
* This post contains affiliate links. If you make a purchase, we may or may not receive a small commission which helps to support this site. Thank you!
Disclaimer: Shelly has personally reviewed the product listed above. Shelly has not received any monetary compensation for her review. Shelly did receive a free product to try out so she could evaluate and use it for her review. Her thoughts & opinions in this review are unbiased & honest and your opinions may differ. Two Classy Chics is not responsible for delivery of any giveaway items won from this blog. We are not responsible for injury or mis-use of any products won from the Two Classy Chics Blog. Please read our Terms of Service & Disclaimer Policy before entering our giveaways. Thanks!